Snapchat is a fast and fun way to share the moment with your friends and family. Snapchat opens straight to the camera. Just tap to take a photo. You can stay connected while you are at home. It lets you easily talk with friends via messages, and you can see live stories. Snapchat login is compulsory for chatting with friends. But Many times users faced issue on accessing the Snapchat and wonder about why is Snapchat not working properly.
Reason For Snapchat Not Working on Android Phone
Evan Spiegel, Bobby Murphy, and Reggie Brown developed the Snapchat in 2011. Nowadays, Snapchat is used by millions of people. Snapchat supports different filters. It can cause some errors in working. Sometimes, some outages occur on Snapchat while working. There can be many reasons for Snapchat not working. Also, some bugs occur due to server outages, third-party app issues, and many more. When users can not resolve the problem, they report the problem – Why is my Snapchat not working right now? In the next section, we discuss the solution for these fixes.
9 Quick Ways to Fix If Snapchat is Not Working:
Solution for all the problems that arise during the working of Snapchat are as follows:
Check whether Snapchat is down or not
Check Internet connection
Restart app and phone
Update app
Hardware issues
App network Permissions
Clear app Cache
Force stop the app and restart it
Check whether the account is locked
Method 1: Check Whether Snapchat is Down or Not
Before you move on towards any fix, firstly, you have to check Snapchat down. You can check it by using Down Detector. Users usually ask, "why is Snapchat not working right now?" In this case, probably it can be due to Snapchat servers. Unfortunately, when Snapchat is down, users can not do anything. You have to wait until Snapchat fixes the bug.
Method 2: Check Internet Connection
Here, we will recommend the simplest way to fix an outage. You have to ensure that you might have a proper internet connection. When you are using Wi-Fi , you have to check your Wi-Fi connection. You have to make sure that you have a strong connection signal. Reboot the router and modem to fix this error.
If the problem persists, you can move to the following method to fix an outage.
Method 3: Restart App and Phone
Next, if the issue remains unsettled, we check whether this issue is with the phone or app. If Snapchat does not support showing notifications, this problem is with the phone. You can resolve this bug by switching off the phone. If Snapchat has some problem loading filters, this problem relates to Snapchat. For this, you have to close the app and then restart the app again.
Method 4: Update App
Sometimes, outages arise due to the outdated version of the app. When some app features do not work, you have to make sure that you are using the latest version of the app. If not, update the app and download the latest version.
Follow these steps:
Firstly, open Google Play Store
Then, open Snapchat.
Next, download the latest version if updates are available.
Them, it will help you when you cannot use some features. If the problem persists, move on to the next alternative.
Method 5: Hardware Issue
Your problem is not fixed even if you try out different solutions. It might be due to some hardware problems with your phone. In that case, you have to take the help of technicians.
Method 6: App Network Permissions
If, sometimes, some functions are not performed after the installation of the app. It can be because you do not allow the app to perform that function. You have to give permissions to the app only then you can do that task.
Steps to allow access to the app is:
Firstly, open the Settings app.
Click on Apps & notifications.
Next, you have to find Snapchat in the app list.
Hit Permissions.
Lastly, you must check each permission and turn it on.
It will help you perform such tasks that need access from the user.
Method 7: Clear App Cache
If app permissions do not help, you must have some corrupted files in the app's cache memory. Sometimes, users complain why my Snapchat camera is not working? It can be due to some corrupted files. Every app has its cache memory, where recent files are stored to be easily accessible. For clearing cache memory, you can follow these steps:
Open the Settings app.
After this, hit Apps & Notifications.
Check out the list of apps and find Snapchat.
Click on Storage & cache.
Now, tap clear cache.
Finally, it will clear the cache memory of the app.
Method 8: Force Stop the App and Restart it
If the app stops working between an operation and you try to close it many times. Some apps work in the background no matter how many times we close the app. Force stop on the app, on the other hand, helps you to stop the background working of the app.
The procedure you have to follow is as:
Open the Settings app.
Now, you have to go to the Apps section.
Tap on Snapchat.
Now, click on Force stop.
Now, you can see if this will work or not by opening the app again.
Method 9: Check Whether the Account is Locked
Sometimes, if you cannot use your Snapchat account, the reason for the error can be that your account is locked. It can be due to many reasons. It can be due to you adding many friends without verifying your mobile number or email address. Your account can be locked when you send spontaneous messages and in some disrespectful manner. If a user finds that his account is locked, immediately contact Snapchat.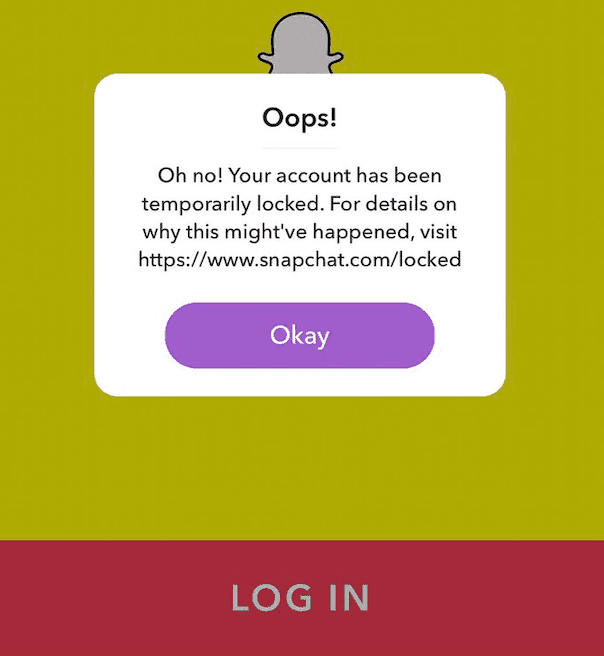 After all, If your Snapchat account is not working after applying all the methods. You can report your problem to the Snapchat official website.
Final words
In this blog, we discuss how to help users when their Snapchat is not working. Snapchat allows users to share messages, photos, and videos. Additionally, if you can not send your snaps to your friends, you can delete conversations with that person. Also, it will help you to recover your account, and you will be able to enjoy it properly.
Also Read: Why is Facebook not working?- 11 Quick Ways Fix Guide