Realme is launching its new GT series in India. After launching Realme GT 2, Realme came out with a new smartphone. Realme GT Neo 3 will launch in India as it is confirmed. This smartphone comes out with two considerable upgrades to their previous mobile phone. The significant change introduced in this smartphone is its charging system. The other one is battery capacity. It is launching with a Super 150 watt charging speed. Check out Realme GT Neo 3 price, specifications, and availability details.
Realme GT Neo 3 availability in India
Realme has confirmed the availability of Realme GT Neo 3 in India. Realme GT Neo 3 first came out in China. In China, it was in an introduction by CEO Madhav Sheth. He also confirms its availability in India on 29th April 2022. The sale of GT Neo 3 will be pushed via Flipkart.com
Realme GT Neo 3 Price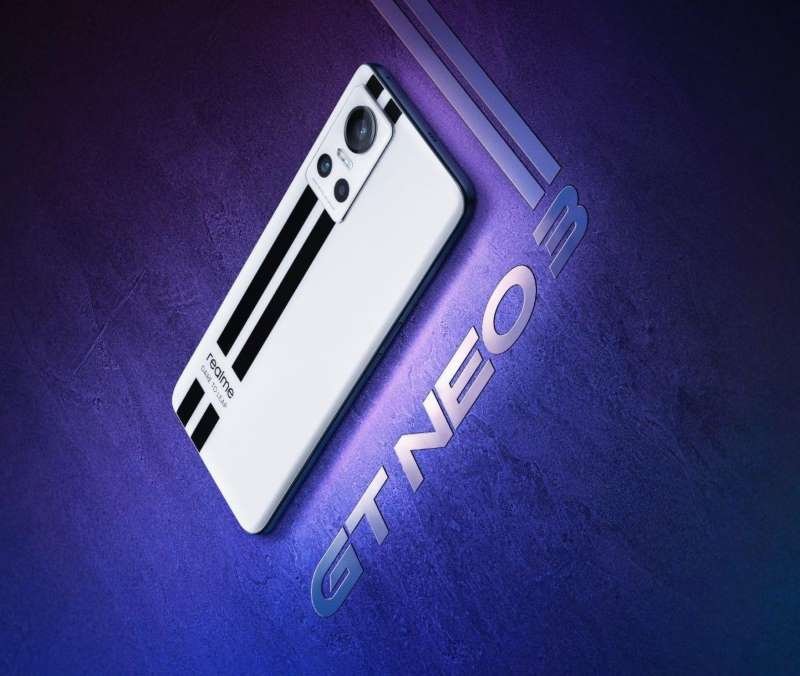 In China, the available price of the Realme GT Neo3 starts from CNY1,999, but when a new 150W version comes out, it rises to at least CNY2,599. India, this price is certainly at least INR 23990 according to the current exchange rates.
Realme GT Neo 3 Specifications
This smartphone will come into the market in some time. Realme GT Neo 3 sales start on 2nd May 2022. As a consequence of its release in India, some specifications are different from the model in China. However, the specifications of Realme GT Neo 3 are as follows:
Realme GT Neo 3 Camera
Rear Camera Setup
The phone will come out with a triple rear camera setup. The Primary camera consists of 50 MP resolution with a wide-angle of 84° FoV and a 1.88 aperture 23.6 mm focal length. The secondary camera consists of an 8MP Resolution with an ultra-wide sensor and 2.25 aperture 15.4 mm focal length. Moreover, the tertiary rear camera is a 2MP sensor with a Macro lens and 2.4 aperture 21.8 mm focal length.
Selfie Camera Setup
The selfie camera is a single-camera setup. It consists of a 16MP wide-angle of 82° FoV with a 2.45 aperture.
Video Quality
The Video Resolution for the rear camera is 3840×2160 @ 30 fps 1920 x 1080 @ 30 fps. Also, the resolution of the video of the front camera is 1920×1080 @ 30 fps1280x720 @ 30 fps. Additionally, a flashlight is available at the back side of the smartphone.
Display Details
Realme GT Neo phone comes up with a 6.7-inch AMOLED display. Also, it supports Full HD+ resolution for the pictures. The pixel density of this smartphone is 1080 x 2412 pixels. Moreover, the pixel per inch is 394 PPI. Furthermore, the aspect ratio is 20:9. The height and width of this smartphone are 6.43 inches (163.3 mm) and 2.98 inches (75.6 mm). The thickness is 0.32 inches (8.2 mm). However, the weight of this smartphone is in estimates at 188 grams. Also, the refresh rate is 120Hz.
Realme GT Neo 3 Processor and Storage
Realme GT Neo 3 comes powered by octa-core MediaTek Dimensity with 8100 chipsets. The platform on which it works is OS, Android 12, and Realme UI 3.0. The CPU of this phone comes as an Octa-core (4×2.85 GHz Cortex-A78 & 4×2.0 GHz Cortex-A55). This smartphone supports GPU Mali-G610 MC6. Storage space is 8GB RAM and 128GB onboard for processing. Also, the protection for this smartphone comes with Corning Gorilla Glass v5. The touchScreen supports multi-touch and Capacitive. It supports Dual SIM both SIMs are Nano type.
Charging Details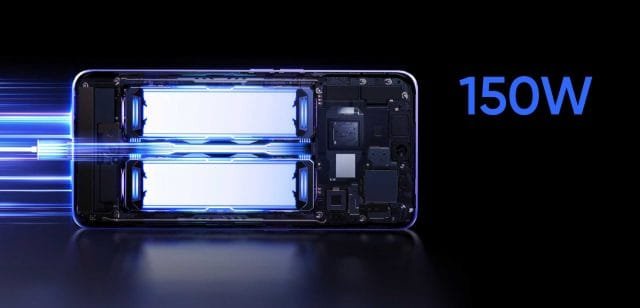 Realme GT Neo 3 comes out with a 5000mAh battery. Also, it supports 150W fast charging by way of a USB Type C port. As per the official claim, it will charge the battery full in just around ~15 minutes.
Available Colours
Realme GT Neo 3 will come in three colors. These are Le Mans, Silverstone, and Cyclonus Black.
Additional Details About Phone
Additionally, it has some other features available. These features are fingerprint sensors available on-screen and face unlock for some additional security. Also, you can stream music through the headphone jack. Further, some more connectivity features available in the phone are Wi-Fi 6, 5G, Bluetooth 5.2, NFC, VoLTE, and GPS with GLONASS.
Final Words
Realme GT Neo 3 will come out very soon in India. Its price will lie between 20000 and 30000 somewhere. Moreover, some changes come in this series of smartphones. It will come with fast charging features. Also, it will come in the 5G network.
Also Read: Vivo IQOO 9 And 9 Pro 5G Launched: Price, Specification & Pre-order Details