Spotify is the most popular application for listening to music online for free. Most users use Spotify to enjoy the music, and Spotify provides special reports that show the artist's performance, songs, genres. Here, you will learn the Spotify wrapped and stats and how users can see the stats. To know the detailed information, follow the article till to end.
What is Spotify Wrapped?
This service started in December 2016. In this service, Spotify sends a report to the users according to the year's most popular music and podcasts. Also, send a report of their statistics from January 1 to October 31. This process is called Spotify Wrapped.
Spotify wrapped report sent to every user. There are no criteria for sending the report. With this report, users can learn about their listening history through a series of alternate visualizations called Cards. These Spotify Wrapped cards show the artists, genres, songs, and podcasts. It is prepared based on the most listened to last year. Also, users can share the stats with their followers and friends to encourage. Most artists are also sharing their visuals on social media for their fans.
What Does Spotify Wrapped Show You?
Spotify Wrapped provides the visual representation of the songs, genres, artists, and podcasts. These card criteria are fixed from January 1 to October 31. Moreover, users can share these cards on Instagram, Snapchat, Facebook, Twitter, and TikTok.
If users use the Spotify Private Sessions feature while listening to the music, Spotify does not record anything information. Private sessions hide all the activities that you perform a Private Session. Additionally, If you want to upload any song on Spotify, you want to listen. In this case, these song stats are not counted on the card. Hence, those songs are already available on Spotify, and these songs are counted in Spotify Wrapped results.
The Spotify Wrapped 2021 cards include these things like Minutes Listened, Top Songs, Top Song, Audio Aura, Top Podcast, Top Genres, and Top Artists, Top Artist. Additionally, this card show your Top Songs, Top Artists, Minutes Listened, and Top Genre.
How to See Your Spotify Wrapped 2021 On The Desktop?
Currently, the Spotify wrapped cards service is unavailable on desktop. If you are a desktop user, then you cannot find the cards. In case you can check out the other option, 2021 Wrapped hub. There are includes a playlist of the song you listened to the most in the past year. Also, you can see your top songs 2021 playlist available on a home section in the Spotify web app or the Windows or Mac desktop apps.
Why Can't I See Spotify Wrapped 2021 on My Phone?
Sometimes, due to some error, Spotify Wrapped does not show to all users simultaneously. You need to keep patient and roll out your application at this moment.
Also, you can see these features on the iOS or Android Spotify app. As we already discussed, it is not available to the web app. It is a useful feature to encourage the artist and their fans to motivate their work. Moreover, you can know the performance of the song based on the performance.
How to See Your Spotify Wrapped on iOS or Android
If you want to see your Spotify Wrapped 2021, you must go on the Spotify home screen. For this, firstly, open the Spotify app and choose Home from the bottom toolbar. Then, you can see the first result on the home screen is the Spotify Wrapped results.
Additionally, visit spotify.com/wrapped. It would help if you opened up the Wrapped screen inside your Spotify for Android or iOS.
New for Spotify Wrapped 2021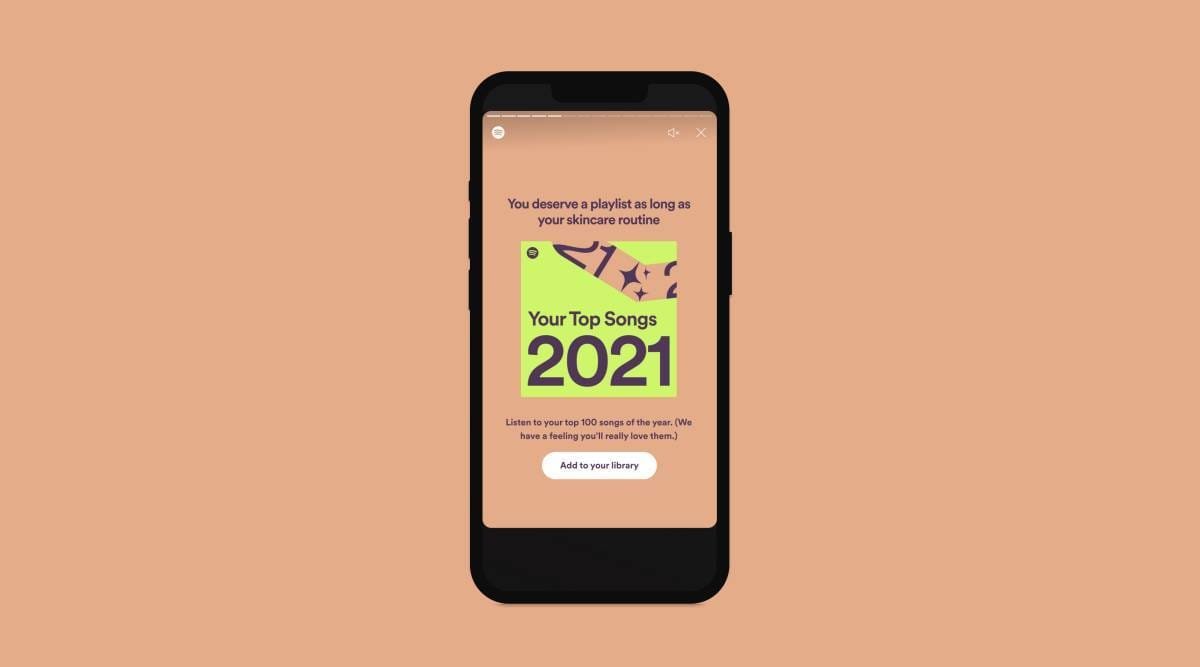 The new feature for Spotify Wrapped 2021 is also available to the Wrapped hub. You can easily navigate to this is to simply switching over to the Search tab from the bottom toolbar and searching Wrapped. Here, you can find a variety of personalized, data-driven, and editorially curated content. It includes:
Your Top Songs 2021
Your Artists Revealed
Top Tracks & Artists of 2021
Best New Podcasts of 2021
Best Episodes of 2021
The Best of 2021
A Look Back at 2021
2021 Wrapped: Blend
Spotify Wrapped 2021 is added a game that is called Playing Cards. By using this feature, you can play with your friends. It is styled after two truths and a lie, and players need to guess the fake statement. This game theme depends on the published Spotify Wrapped results.
How to Check Your Spotify Stats
Spotify Stats is the most basic Stats that shows the basic performance of the listed categories. It includes your favorite songs, artists, and genres from previous times. You can find out the stat of Spotify stats, including the Top Tracks, Top Artists, Top Genres, and Recently Played. Additionally, you can see the stats of the last 4 weeks, last 6 months, and all time.
Now, you can scroll up to the bottom of the top tracks page, and you can find an option to create a playlist button. By using this button, you can create a new playlist instantly. Also, you can use the third-party service Stats for Spotify. Let us discuss in the ahead in this article.
Important Note: Lots of users use the Spotify account at the same time. Sometimes, it crashes due to heavy traffic. You need to keep patient and try to gain after some time to get results.
Top 5 Websites to Check Spotify Stats
There are top five websites where you can check the Spotify Stats. All websites provide genuine data. We will mention the websites in the below section.
We have already discussed the Spotify Wrapped in this article. Every year, Spotify gives a Spotify Wrapped to its users. This report shows the performance of the past year. It is available in the slideshow forms that show you your favorite artists, songs, and genres were over the past year.
Obscurify also works like other websites. It shows you your top artists, tracks, and genres. Also, it gives the rating to them how obscure your tastes are and compares with others. It is along with a list of the artists and songs you are listening to that no one else does. Here, you need to scroll down and find a Moods section. It measures how happy, danceable, energetic, and acoustic your tastes are and compares them with others.
Receiptify is another app that checks the songs you listen to the most. Also, it takes a capture of a receipt with them listed in order. You can find out your favorite songs from the past month, six months, or all time. It is a very simple gimmick and quick to share on social media.
It is something different that gives a different result. Here, you need to connect to Spotify and pick your zodiac sign from the drop-down menu. The site provides the most recent data that show you five recent songs you love that match well with your sign.
It sorts your playlists, top artists, and songs with different criteria like danceability and popularity. Also, it creates a list of Spotify's crazy specific genres like acid house, deep metalcore, and charred death. Moreover, if you click on a genre, it can make a playlist of songs of that genre. It gives an option to select a random genre and generate a playlist of songs of a random genre.
Conclusion
The above segments of the article contain the full information regarding the process of Spotify wrapped. Also, you have learned several ways to see the stats on iOS and Android versions. Additionally, You can learn about the new Spotify Wrapped 2021. In this article, we have tried to explain each aspect of Spotify Wrapped.
Also Read: How to Turn off Shuffle on Spotify iPhone And Desktop?