Diablo 2 is an action computer video game. Co-founders of this game are Blizzard Entertainment and Vicarious Visions. Blizzard Entertainment published this game in 2000. It is an improved version of Diablo2(2000).
The development of this game started around 2019. It is a joint effort of Blizzard's Diablo team and Vicarious Visions. Vicarious Vision handled the front-end, 3D clients, and Blizzard was responsible for back-end server and Battle.net integration views.
Two core principles for the development of Diablo 2 are:
Firstly, to preserve the original experience of the game.
Secondly, to make it accessible for modern play.
Due to some limitations of Diablo 2, Diablo 2: Resurrected came into existence.
When Does Diablo 2 Resurrected Come Out
Diablo 2 is an action-adventure with the composition of RPG elements. It was released in 2000. Diablo 2 Resurrected is a revised version of the dungeon-crawling classic. Diablo 2 Resurrected release date was September 23, 2021. This was released on Battle.net.
It allows multiplayer to play at a time, i.e., 1-8 players. Its genres are action and RPG. Dark Wanderer rebuilt in all-new 3D graphics, brand new cinematics, and remastered audio. There will be a guide for Diablo 2 Resurrected that seeks to help new players find their footing in Sanctuary.
Despite all the improvements, there is a problem in inventory management. There are some restrictions for space inventory. While killing countless enemies, players have to make more space. This is a very annoying task and breaks the flow of the game. You can play Diablo 2 Resurrected on the Xbox series X/S, PS4, PS5, Xbox One, and Nintendo Switch, PC.
Features of Diablo 2 Resurrected
Diablo 2 Resurrected offers different features to the players. Additionally, It provides remastered graphics, i.e., monsters, items, spells, heroes, and all resurrected.
Some characteristics of this game areas:
Firstly, no more compatibility issues.
It provides better performance to the games. This game allows 60 frames per second for modern play.
This game can craft items in the Horadric Cube for those gamers who have the hardware.
Also, the audio effects are remastered, including footstep sound and combat noise.
Moreover, it provides customizability options for gamers.
Diablo 2: Resurrected allows switching between the old version and the remastered button with just a single click.
Programmers add 3D graphics to this game.
Also, players can play on any platform with their saved progress.
Now, it has increased its stash sizes.
Furthermore, it allows a multiplayer facility.
Additionally, many features are given to the players.
How to Play Diablo Two Resurrected Beta
In today's era, Diablo 2 resurrected is available on all platforms. Once you have verified your account and game, you can play offline. Moreover, Offline and online characters are all separate.
The Diablo 2 resurrected open beta was in access in two periods. Firstly, for those who have pre-ordered the game. Secondly, for all the other players. On Friday, August 13, the first beta was provided at 10 am. Second, the open beta will begin on August 20 at 10 am.
Moreover, a guide present for Diablo 2 Resurrected will help the players. There are two methods to access the Beta version.
For PC clients:
Firstly, login into the website Battle.net.
Next, find Diablo 2: Resurrected.
Then, tap on it.
In case the game does not appear.
Click on All Games.
Choose it from there.
Next, Add to favourites.
Now, you find the Install option.
Last, select the Beta version.
For Console Players:
If you purchase the game, find it in the Owned Game Library.
You can get access to the Beta version.
In the above section, we discussed playing the Diablo 2 Resurrected Beta version. Further, we will discuss the system requirements for playing this game.
Diablo 2 Resurrected System Requirements
Diablo 2 can run on Windows 7, Windows 8, and Windows 10, 1 GHz processor. It requires 1.9 GB of space on a Hard Drive. Memory requirements are 32-Bit Windows: 1 GB RAM, 64-Bit Windows: 2 GB RAM.
Diablo 2 Resurrected system requirements are higher than the original. Requirements are:
Operating System- Windows 10
Processor- Intel Core i5-9600k/AMD Ryzen 5 2600
Video- Nvidia GTX 1060/AMD Radeon RX 5500 XT
Memory- 16 GB RAM
Resolution- 1920*1080
Internet- Broadband Internet Connection
If these system requirements are not presented, the game is not supported in the system. The next section explains how the gamers give reviews towards the game.
Diablo 2 Resurrected Review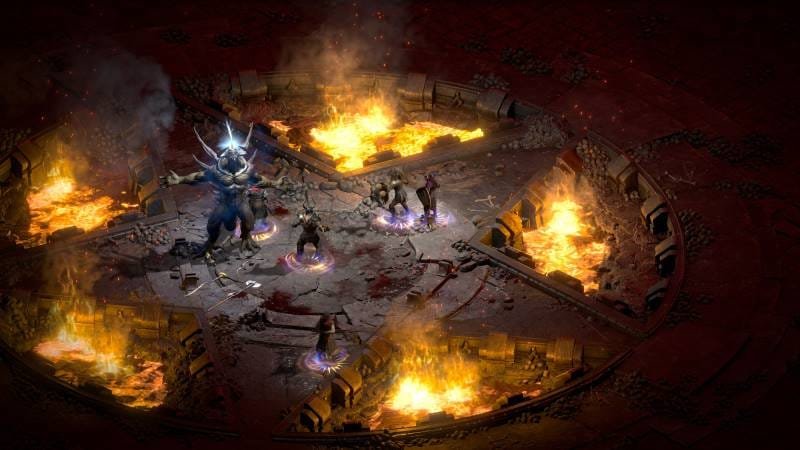 In the aged, but mostly gracefully column, we have a section of Diablo 2's story, which is good. Nevertheless, it will be remembered easily by the players. Here, we will discuss the 5 Acts that we went through. The first and the second Acts are great fun, and each adventure is a dark, mysterious, fantasy, and fantasy scenario.
Additionally, act 3 is a great reclining jungle crawl with lots of difficult chambers present all around. Act 4, however, is very boring. I do not think that Diablo 2 is as dull. I have no idea about this. Thankfully, in Act 5, all the things come with Lord of Destruction expansion. This is a very good time.
This game took over unlimited lives during players' shift to the millennium, and it still has the scope to influence your time in 2021. However, with the help of the right group of friends, you can easily cross all the difficult levels.
Special Highlights of Diablo 2 Resurrected
There is great joy in facing all the challenges. Especially when the escalation goes on top and you have to face great difficulties for character levels 30 to 99. Then, you start the new game with a new character. Diablo 2 gives you a chance to do this.
Players forgot about Diablo 2. When the action bar revolution is introduce, players show great interest. Also, you can design two essential qualities after using both the left and right-click, while the rest of your guides are convicted with the help of different keys, i.e., F1 to F8 keys.
After four years, Blizzard released World of Warcraft which completely changes the way they design RPGs. Always, we had a different set of icons that were accessible. Surely, that is important for the constant maintenance of the 2000 version of Diablo 2.
Conclusion
Finally, we can say that Diablo 2 Resurrected proves a good Reddit. Simultaneously, it manages to preserve the original game. In this article, we know the release date and also know the way to play the Diablo 2 Resurrected Beta version and special requirements that users want in this game. It is a great experience to the users and it has many different modes that makes attractive.
Also Read: Top 31 Free Offline Games To Play Without WiFi For Android