Did you know you can use your phone or laptop to game wirelessly? As long as your phone or laptop has Bluetooth support, you can enjoy wireless gaming on any of those platforms. Well, that's what SteelSeries has done with their new Arctis 9 Wireless Gaming Headset. The Arctis 9 Wireless headset supports the same features found in its laptop counterpart: noise cancellation and surround sound features. Read out the whole article and find out the detailed review of SteelSeries Arctic 9 Wireless Gaming Headset
Comfort And Design: The Steelseries Arctis 9
SteelSeries has done an amazing job with its tough design. The headband is made out of matte black with a clean look. There will be no RGB lighting on this headset but you can see the white lines on the adjustable strap and Steelseries logo on it. You can surely feel the quality of the headset when you first unbox it.
The Steelseries Arctis 9 is a little heavier than the previous Steelseries headset Arctis 7 Model. The overall weight of Steelseries Arctis 9 is about 0.9 pounds. But you can feel lighter when you are used to wearing this headset frequently. The earcups are made out of leatherette which helps to block outside noise but passive noise cancellation is a weak point of this headset.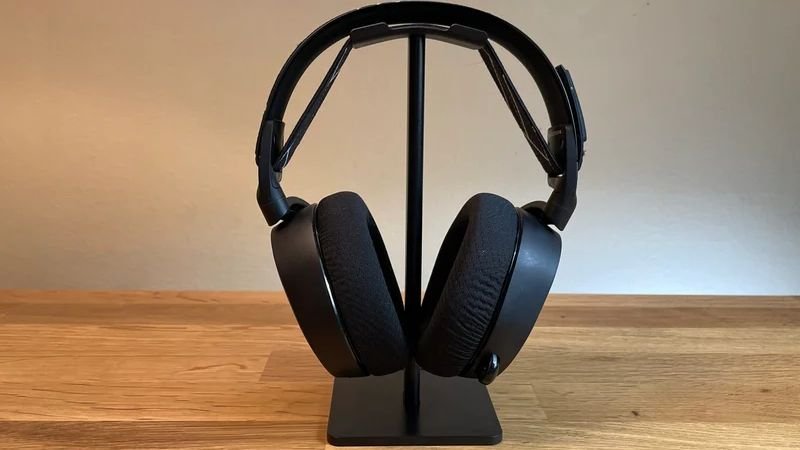 Controllers
The left ear cup comes with a retractable microphone and you can safely staw the mic inside the ear cup when you need it. The left ear cup has a Red LED light which will let you know when you mute the mic. You can also see the ChatMix roller to change the mix between the chat audio and the game audio.
The right ear cup comes with a variety of options such as a volume roller, power button, Bluetooth button, microphone mute switch, as well as a Micro USB Slot for charging with a 3.5 mm jack. There is another LED indicator on the right ear cup that blinks white and will let you know when you connect the wireless dongle in PC mode. It blinks blue when you connect it to Bluetooth and alternatives when both connections are active. When you connect the dongle to your Playstation 4 you can switch it easily and PS4 recognizes it as a microphone.
Battery Life On Steelseries Arctis 9 Wireless Headset
The battery life on Steelseries Arctis 9 is pretty impressive you can expect 20 Hours of battery on a single charge. It takes 4 hours to charge it completely and you can still use the headset wirelessly while it's charging.
The Steelseries Arctis 9 Wireless headset comes with the complete package of features. You can see the LED button between the power and Bluetooth button that shows you the charging status. Green LED indicates 100-50% charging, Yellow indicates 49-20% charging, Red 19-10% charging, and finally blinking Red indicates 9-1% charging. You can also see the general battery indicator in the Steelseries Arctis 9 software.
Software On Steelseries Arctis 9 Wireless Gaming Headset
The Steelseries Engine 3 is a little stripped down in comparison to other software suites from competitors. With DTS off, you can access a 10-band digital equalizer and a few equalizer presets. With the Steelseries Engine 3, you can also manage your virtual surroundings such as Games, studios, and Cinema; so that you can enhance the bass and dialogue. The amazing Microphone setting allows you to adjust the mic volume and sidetones or how you can need to hear your own voice or surrounding voice in your headset.
Price Of Steelseries Arctis 9
The Steelseries Arctis 9 is not the most expensive headset on the market but is still in a flagship-class price range. You can get this headset for $199. However, you can also find other models in the same price range. You can get the Razer Nari Ultimate in the same price range that comes with RGB lighting and also other features like Haptic feedback.
Final Talk
The Steelseries Arctis 9 is a perfect multiplatform headset and one of the best options for those who are looking for a new headset under $200. If you are a gamer who loves PC games or console games, then you can choose this headset for yourself. The Arctis 9 is still a winner for the Arctis line overall, you can also look at other options as well if you are looking for a gaming headset with a more premium feel.
Also Read: Astro A50 Wireless Headset: Specs, Best Buy Price & Review