Nowadays, the Minecraft game is very hard to define. In starting, this game is very simple and easy to play. Also, their mining and crafting are very easy. However, now it looks like a completely different game. Many new tasks are added to this game. Moreover, Minecraft is still an action-adventure sandbox title that offers players a limitless title. We are going to discuss how to get shaders in Minecraft and also list out some best Minecraft shaders.
This game is available with different modes that make it very creative. If you have a creative mind, this game is perfect for you. It allows the player to build anything that you can imagine.
Minecraft Availability For Devices
Minecraft is available to use for two editions. Firstly is Minecraft Java Edition, and other than Minecraft Bedrock Edition. In detail, Java edition is available only for PC and other Bedrock across devices available for Android, iOS, and game consoles. Now, Microsoft has its own Minecraft, and you can easily use one login to log in then no matter what device you are using.
How to Minecraft Shaders Download / Install Minecraft Shaders
Here, we will discuss the simple and genuine process to download & install Shaders in Minecraft. Then, you can enjoy the beauty of Minecraft to the next level. There are shaders available that make it an incredible game. The options are available to add the new lighting, better graphics, and overall graphics at the new level. Let us move on to the process of installing and downloading Minecraft Shaders.
Step 1: Download & Install Optifine
Firstly, you need to install shaders, and it is not a technically mod. It is installed as a graphics pack, and it is available in a very similar manner to texture packs. However, the interesting thing is that vanilla Minecraft does not support shader packs. Moreover, you are required to install Optifine to get them up and running. You can visit their official website and download and install Optifine.
Step 2: Download A Shaders Pack
There are lots of different shaders packs available here. Here, one Shader is very dark and looks a little bit spooky to very bright, and it gives the beach feeling. Also, other shaders are very amazing, and you can find out as per your choice. You can use the mod manager to install Minecraft Mods Forge. On the other hand, You need to use Optifine forshaders and texture packs. Optifine is very helpful in increasing its frame rate. Also, it is very crucial to allow shaders to work. All shaders packs are verified and supported by the latest version of Minecraft and Optifine.
Additional Note: Shaders packs are very intensive. So, we will suggest if you do not have a very good desktop PC. Some high-end gaming laptops. Then, you cannot play Minecraft smoothly, and it can be a little setback for you.
Step 3: Open Your Shaders Folder
Now that Shader, you have and go ahead. Open the Minecraft launcher and play the Optifine version. When you visit the Minecraft main menu, then follow the simple steps.
Tap on the Options button.
Then, tap on the Video Settings button.
Here open the next page and click on the Shaders.
Tap on the Shaders Folder button in the bottom left of Minecraft.
Step 4: Install The Shaders Pack
You need to complete three steps for the install shaders pack in your system.
The hardest part of shaders installed is getting to the shaders folder. Once you try, it is quite an easy process. Here, you need to take the shaders pack that you downloaded.
The shaper packs you can find in your Downloads folder or on your desktop. Here, you need to open the shader packs folder. If you do this process and then close the folder. Again restart the Minecraft and back up. You selected the optifine version and opened Minecraft.
Here, you need to remember the opening of the Shaders Folder. You can see the shaders pack that you have installed on this screen. Then, click for doing it and play some Minecraft.
Here, you have learned about how to download & install Shaders in Minecraft. If you want to install Minecraft successfully, then you need to follow every step very carefully in the same sequence.
Best Minecraft Shaders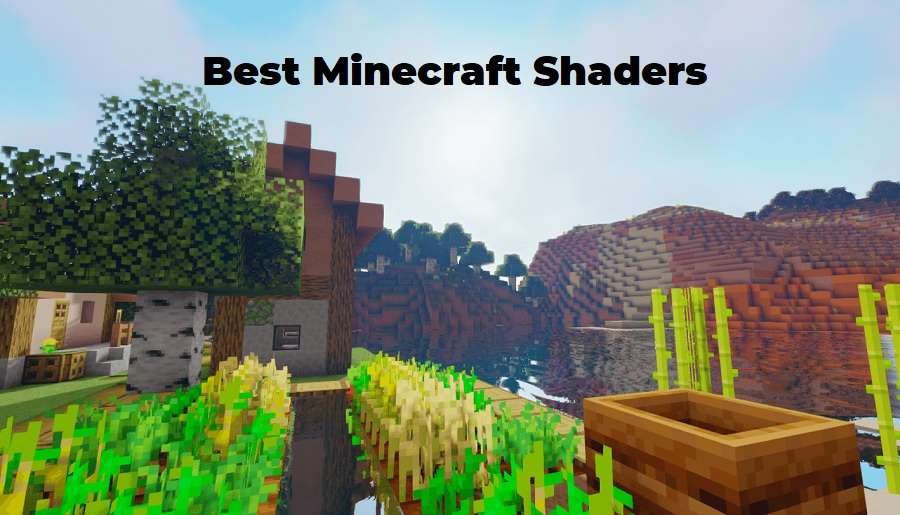 We will discuss the finest and coolest shaders for you. We have a shortlist of Minecraft shaders for you. Let us discuss some Minecraft shaders in the below section.
1. Sonic Ether's Unbelievable Shaders
SEUS is one of the earliest and finest shaders to hit the Minecraft modding community. Therefore, it is one of the most popular visual overhauls. It is focused on realistic lighting, favoring subtle effects at the wild colors and contrast that some other shaders produce. It supports ray-tracing on any Nvidia graphics card.
2. Continuum Shaders
Continuum Shaders is the top of the bunch and photorealistic shaders for Minecraft. Its effect is very nice, and effects enhancement is unexpected into a single mod. It is available with realistic fog, pristine water, unbelievable shadows, clouds, realistic colors, Etc.
3. BSL Shaders
Suppose you are searching for the most realistic graphics in Minecraft. However, your computer shrinks at the sight of Continuum, BSL Shaders that can be the perfect mod for you. BSL Shaders always recommend in any case, and it makes them stand out. Also, you can enjoy one of the most beautiful versions of Minecraft out there on a less powerful computer.
4. Sildur's Vibrant Shaders
It is the best Minecraft shader with a natural look that improves its visual style. It has incredible effects with saturated colors and blown-out lighting. The Shaders is one of the most intense graphics mods of Minecraft.
5. Oceano Shader
It is new for Minecraft shaders and lacks world. Oceano is working to boost the colors and ambiance of Minecraft, which is very helpful in enhancing an experience, a unique gaming experience. It is special water effects outperform other shaders. However, it gives a unique presence that can make shaders with highly realistic styles look dull and lackluster.
How to Disable Minecraft Shaders While Playing
If you installed the shaders on your system, it does not work properly. Then, you will learn the process of disabling Minecraft from your system.
Press the Esc key to open the menu screen if you are playing.
The process is just similar to adding the shaders. Now, select the option.
Then click on the Video Settings, and tap on the Shader.
The best practice is only one shader pack enabled at once. Here, choose the Shader from the list and tap in the Done.
Conclusion
You have got the solution about the process of installing and downloading. Also, you can find out the best shaders that are very crucial to the better efficiency of Minecraft. Additionally, we will tell you the best solution for disabling the Minecraft shaders.
Also Read: Amazon Announces Free Prime Gaming Games For February 2022