Apple Music is finally arriving in the Microsoft Store today. Xbox users will have access to the music immediately and it will be available on Windows in the coming year. Microsoft is also working to integrate iCloud photos into the built-in Photos application on Windows 11.
A new update will make Apple's iCloud photos appear on the top of the Windows Photos app. To make it simple for iPhone users to locate photos taken with their devices on a Windows laptop or computer. All Windows users must do is download the most recent version of Apple's iCloud Windows app.
In the latest event, which showcased what's coming next for Microsoft Surface, we showed that we're providing Apple's iCloud Photos integration straight into the newest version of the Photos app. It started roll-out to Windows Insiders just a couple of weeks ago. With this new integration, we're beginning to roll out an update for this version of the Photos application today for Windows Insiders on the Dev Channel.
The Microsoft Photos application allows users to browse, organize and share photos on their computer and OneDrive In the latest update. You'll be able to upload and view your pictures from iCloud Photos directly within the app too. The photos you have on Apple's iCloud Photos will be displayed alongside images from other sources in the stunningly redesigned "All Photos" gallery view. Also, it is a dedicated page that you can access through an additional navigation menu.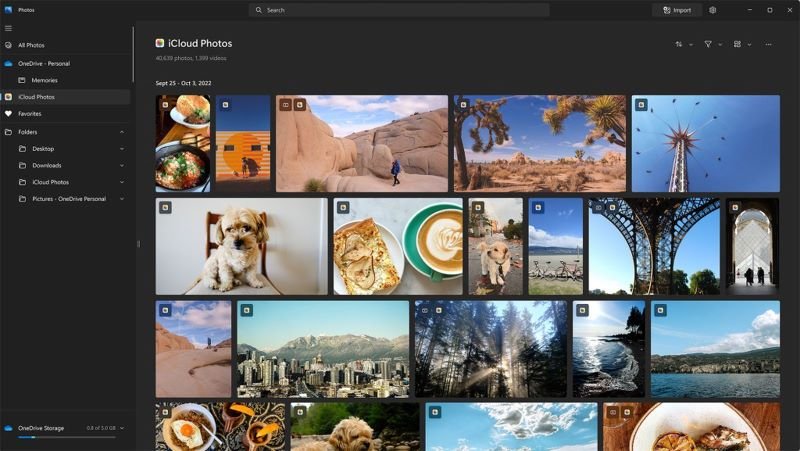 Method To Connect iCloud To The Photos App On Windows 11
Besides the refreshed interface of the Photos apps, Microsoft is also adding an iCloud integration. Also, it enables iPhone and iPad users to browse and manage their videos and photos in a single interface using Windows 11.
The integration doesn't look very appealing since you'll need to set up an iCloud app for Windows 11, but it will be able to connect after the installation. It will appear that the Photos app will have an area specifically for your videos and photos. This guide will guide you through how to connect your Photos app with the iCloud service in Windows 11. To connect to iCloud via photos in the Photos app, follow these steps:
Hit the "Get iCloud for Windows" button.
Select the Installation (or the install) button to download the app.
Click the "Open iCloud for Windows" button within the Photos app.
Log in using Apple credentials.
After connecting the Photos apps to your iCloud account. You'll be able to access your photos from the designated "iCloud Photos" tab on the left pane of navigation. If you select "All Pictures" under the "All Photos" tab, your iCloud-related media will be displayed along with your other local media as well as OneDrive media. If the attribute feature has been turned on, every photo will be accompanied by an iCloud icon that lets you know where the file is.
Apple Music On Xbox
Apple Music is now available on the Microsoft Store for the Xbox Series X, Xbox Series S, and the Xbox One, providing subscribers with access to the music streaming service. Also, it includes large album artwork, full-screen time-sync lyrics, and much more. As reported by users on Reddit, Music can be playing in the background while you play.
It's similar to what is available on TVOS for the Apple TV, with a top navigation bar with Listen Now and Browses, videos Libraries, Radio, and Now playing. Apple Music launched on the PlayStation 5 last year and is also available on certain Samsung and LG Smart TVs. Roku, Android, Amazon Echo, Sonos, Google Nest, and Windows through iTunes.
Apple Music recently surpassed 100 million songs. However, Apple hasn't revealed how many customers it has acquired in the last few years. The largest competitor to Apple Music, Spotify, was available on Xbox with Amazon Music, Deezer, and more. Tom Warren from The Verge. Tom Warren shared a brief overview of the Apple Music application for Xbox:
Apple Music is now available on Xbox consoles pic.twitter.com/LoH6UH5Ycz — Tom Warren (@tomwarren) October 12, 2022
Also Read: Apple iPhone 14 Pro Max Review: Does Pro Max Cost Justify