The Apple iPad has been a tablet that will come into existence after some time. It is economical, and some features are added into it every year. More changes are not introduced in it. Now, in this year California Event helps us in access to the next generation, that will come with improvement in processor. Moreover, an improvement in front camera and increment in storage space. Read all the details about the new Apple iPad 9th Generation Features, Price & Colors and Best Buy deal.
Apple is now introducing a new iPad 9th generation case. Here, Apple comes with some new iPhone series and new iPads. Although, these changes are similar to the older version.
9th generation iPad Feature
The iPad 9th Generation features come with some improvement in internal and enhancement in the front camera. This iPad is good for school work and for gaming because it has enough power. Software that is used in the 9th generation iPad is iOS 15.
iPad 9th Generation Release Rate
The iPad 9 is assumed to come into existence on 24 September, 2021. It has been available for pre-orders from 14th September and can be available in the stores after 24 September.
iPad 9th Generation Specification
iPad Build and Design
This iPad is available with Aluminum Chassis and its display is a glass display that is non laminated.
Display
It will be available with a 10.2 inch Retina Display. It supports 2160 x 1620 Resolution. Also, it comes with 500 nits brightness. Moreover, some new features also available in it are True Tone display and A13 Bionic Processor. The screen size is 250.6 x 174.1 x 7.5 mm. Furthermore, the weight of the iPad is 487 grams.
Camera Specifications
Front Camera
The most important feature that is not available in any other iPad is its front camera. It is available in a 12MP Ultra wide camera with f/2.4 with 122 degree field of view. Previously, it was available in 1.2MP.
Back Camera
Its back camera is 8MP with f/2.4. Also, it has a five-element lens. You can zoom up to 5x. Additionally, video recording is available with 1080p. Auto-image stabilization is available.
Battery and Charging Description
Battery is available with 32.4 watt-hours. Also, Charging along Lightning Port.
Storage Space
The second important variation is the increment in base storage. It now comes with 64GB instead of 32GB. Also, it can be increased to 256GB if you want to.
Available colors
The 9th Generation of the iPad will come in only two colors i.e. Space Gray and Silver. The latter will be available in black front.
Additional Specifications
Moreover, other than the above features some other features are available. It has the capability to show the sRGB spectrum on the 10.2 inch LCDwith 500 nits brightness and the A13 Bionic Processor. The remaining aspects of this iPad are almost unchanged. However, the headphone jack is available at the top with the power button. Volume buttons are on the right side and a Nano-SIM tray is available. Also, 802.11ac Wi-Fi and Gigabit-class LTE cellular data.
iPad 9th generation Price
The price range for the 9th generation ipad is Rs. 30,900-56,900.
iPad 9th generation Best Buy deal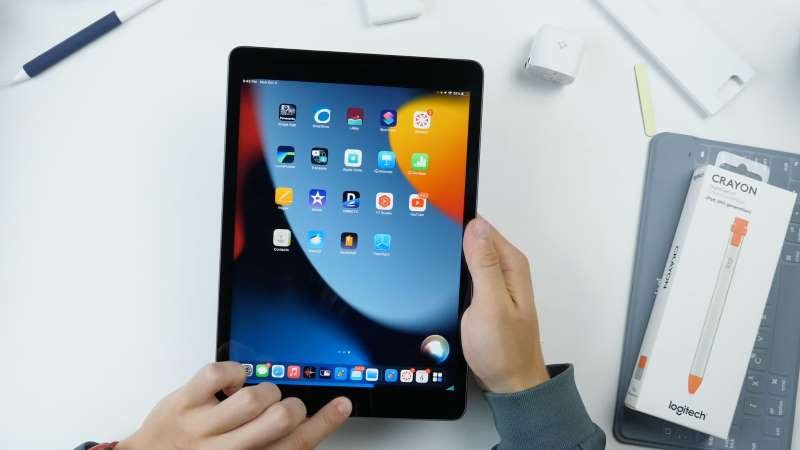 If you want to get the cheapest iPad. We have all the best deals on the 2021 10.2-inch screen iPad. For finding the best deals, you have to know what you want to know and where you look. We have checked out all the sites and sorted the best places for picking up the 2021 iPad at the best price.
You have to check the lowest price from a large number of retailers. 9th gen iPad deals consist of RRP from £319. Many retailers cling to Apple's very competitive RRP.
Apple iPad mini 2021 with 64GB, Cellular
From: Amazon
Previously available: £619
Currently available: £464 (£155 off)
This is the best deal we have seen on the iPad mini. This is available in 64GB Cellular for just £464 that is less than the RRP.
Apple iPad Air 2022 (256GB, Wi-Fi and Cellular)
Previously available: £869
Currently available: £851.62 (£17.38 off)
KRCS has already beat off the price of the 2022 iPad Air. If you choose some other models, you will surely get more discounts.
Apple 11 iPad Pro (M1, 2021 with 256GB) – Cellular
From: Laptops Direct
Previously available: £999
Currently available: £839.97 (£159.03 off).
This is one of the best deals that offers £159.03 off. Yet there is a rise in price for £20 in early February.
Also Read: iMac Pro i7 4K: All The Details You Need To Know!