The Emmy-nominated series has already been renewed through season 10, and development on seasons 7 and 8 has begun. However, this is the first big peek into season 6 of Rick and Morty. In addition to announcing the release date, we also received a new picture from the forthcoming season, which features Rick and Morty in a "ripped and ready" state.
Rick And Morty Season 6 Release Date
Season 6 of Rick and Morty has an official release date. The animated series will premiere on Adult Swim on September 4 at 11 p.m. ET/PT. Weekly new episodes will appear on the channel.
There is currently no information on the worldwide or Netflix release date. However, previous program seasons debuted on Channel 4's E4 only one day after their U.S. premiere. Therefore, our best estimate is that visitors across the pond will be able to see it on September 5.

In addition to season 6 news, we also have information on upcoming seasons of Rick and Morty. In August 2021, writer Cody Ziglar announced that the seventh season's script was complete.
The Cast Of Rick And Morty Season 6
As far as we know, the regulars will return for season 6 of Rick and Morty. That implies that Justin Roiland is repeating his roles as Rick and Morty, possibly causing damage to his vocal cords. In addition to Chris Parnell as Jerry and Spencer Grammer as Summer, Sarah Chalke should reprise her role as Beth.

In recent years, the program has increased its use of guest stars. The previous two seasons featured Elon Musk, Taika Waititi, and Steve Buscemi. Given the show's success, we may anticipate a similar level of quality in season 6 of Rick and Morty, but there have been no official announcements as of this writing.

We also await Dan Harmon's tribute to his prior cult sitcom, Community. Almost every member of Greendale's study group has appeared in Rick and Morty, with a few exceptions.

Alison Brie, Gillian Jacobs, Jim Rash, and Joel McHale appeared on the show. Yvette Nicole Brown and Danny Pudi may not be far behind, although Donald Glover will likely be more difficult to get.
6th Season Of Rick And Morty Theories
We've said it before, and we'll say it again: we wish Rick and Morty would include more canon into their tales. In the previous season, Rick's history has been established, Beth's true identity has been exposed, and Evil Morty's grand plan has been implemented.

These are all elements the program must maintain as it progresses. Rick is a highly flawed and disturbed individual who harms others. It is still a comedy, but Rick and Morty are at their finest when it combines emotional beats with humor.

Given the conclusion of Rick and Morty's fifth season, we anticipate future episodes to handle canon with more care. Standalone episodes should (and will) take precedence, although there is always the possibility of returning to a previous episode if necessary.

The absence of fluid to fuel Rick's portal gun, except Mountain Dew, might potentially diminish the pair's antics. Rick may be required to keep things grounded until they can travel between universes again if they are unable to do so.

Regarding dimension-hopping, we welcome reintroducing fan favorites Interdimensional Cable and Morty's Mind-Blowers.
Also Read: Raised by Wolves Season 2 Review, Storyline & Ending Explanation
Rick And Morty Season 6 Plots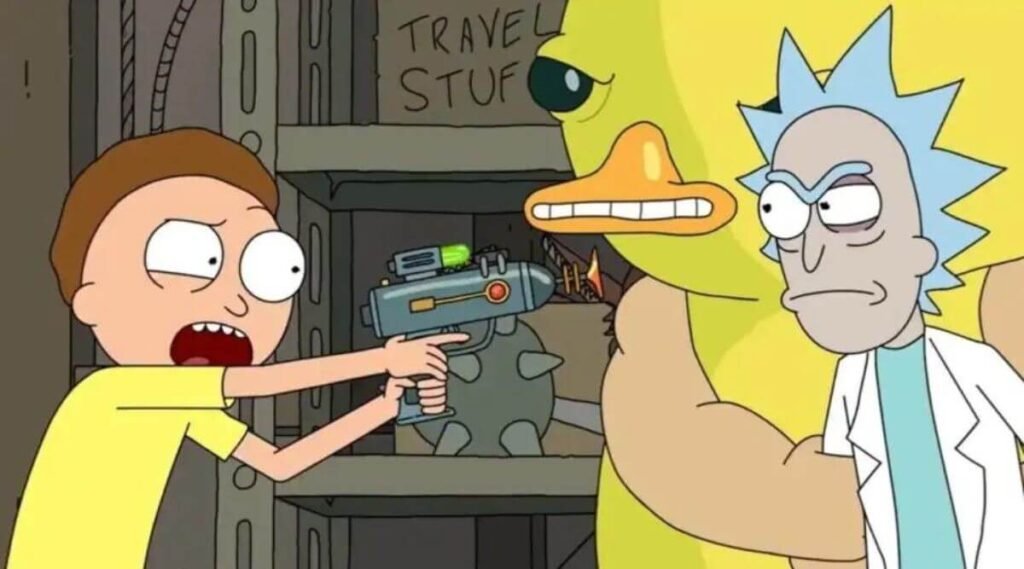 The season finale of Rick and Morty frequently upends the status quo. The program introduced Space Beth in earlier seasons, eliminated Birdperson, and imprisoned Rick in space. Season five somehow surpassed all of that and may have laid the stage for a wilder or more controlled sixth season. Also, it is indicative of the absurd concept of the play that both outcomes are equally plausible.

Not only has it been destroyed, but Evil Morty has also paved the path to a reality in which Rick is not in charge. What may he discover there? It's probably not going to go well, and 'our' Rick and Morty are unlikely to catch up to him very soon.

Due to the portal fluid used in Evil Morty's big scheme, there is very probable that Rick C-137 will be unable to hop freely around the multiverse. It also applies to the other Ricks who have been on the program.

The shift brings great closure to a series that often mocks logic and shrugs off actual consequences. Rick may have to walk on eggshells for the foreseeable future since, this time, he does not get a second chance.

In contrast, the converse is true for Evil Morty. The Central Finite Curve is figuratively bound with Rick's portal-hopping antics in recent seasons. Therefore, it's unlikely he'll be a focal point in the upcoming season. However, his adventures hold infinite potential now that we know that the Central Finite Curve bounded Rick's portal-hopping exploits.
Watch The Rick And Morty Season 6 Trailer Now!
Rick and Morty are aiming for a major comeback this year. Also, the popular animated sitcom vows to return to its roots when it returns. The show's producers have been hard at work on the sixth season for quite some time. Adult Swim has announced that the new episodes will debut in the autumn. We now have the first trailer for season six of Rick and Morty before its release.

As you can see above, the first teaser for season six has offered fans a glimpse of what to expect. The Sanchez-Smith group is back in business, even though some family members wish they were far away from the excitement. Morty is used to embarking on excursions with Rick, but the same cannot be true for Summer. In season six, however, the whole Smith family will learn what Morty has been dealing with for the previous five seasons.

The sixth season of Rick and Morty is scheduled to premiere on Adult Swim on September 4 in the United States. HBO Max allows you to catch up on the animated smash if you are behind on the series. The streaming service has included the first five seasons of Rick and Morty, making it simpler than ever to binge-watch the series. For more information visit here.
Also Read: Marvel She Hulk Release Date, Trailer, Cast & Where To Watch