After winning the audience's hearts, rumors are up-down about Bloodborne coming on PC. Fans are very excited to listen to that, but let's see whether Bloodborne will be on PC or not.
After listening, "Sony is bringing its exclusive IPs to the computer." Everybody was insisting on getting Bloodborne too. But, PC players should get ready because it is saying that finally, you can play Bloodborne on PC.
"Is Bloodborne on PC": But the Update isn't good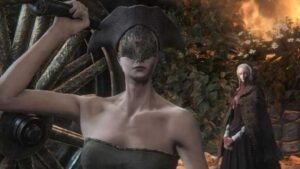 As of June 4, updated, Famous journalist Colin Moriarty is less sure about this news than before.
In the latest episode of Colin's podcast, he said that "With Bluepoint, he was… he's been talking to someone who was like- 'No man, Bluepoint… isn't making that… doing something with Bloodborne or Demon's Soul is like souls game at all, he was like Really? So, now he is guessing twice if the game's coming. He thinks it's coming. However, he is a little confused."
These words are not in favor. Nick is the most prominent cheerleader of the PC port of Bloodborne. But now, the situation seems to be unpredictable. Yet, he said that he believes in Bloodborne remaster.
But you don't have to worry. Whenever the new news will out about the version of Bloodborne, you will find it.
Confirmation of Bloodborne on PC
At "The XboxEra Podcast" at 1:31:13, you can hear the confirmation. Nick Baker is saying that the Bloodborne PC port is completed already. If the Bloodborne production said this, it must be true that Bloodborne is coming on PC. But the only matter coming between is release time. It has seemed it's 99% involvement of Bluepoint, as they are likely to be working on Bloodborne remaster for PS5. Sadly, we don't have the other information related to the release date. Because we only have this information based on the developer in the PC port.
How Can you play Bloodborne on Pc without Port?
It's very simple to play Bloodborne on a PC without a port. You know Bloodborne is on PS now, and it is already available on PC for game-streaming. But what is PS? PS is a game streaming service owned by Sony. The best thing is it can stream games on PC and any PlayStation. Also, on PC, It grants PS4 and PS5 games. How can I use PS? First, you need to activate a subscription that requires a PSN account. You can complete Bloodborne on your PS, as you will get enough free 7-day trials to end the game.
If that doesn't work, you can pay €10 monthly, preferably €60 a year. This is the last and only option to end Bloodborne's wait on your PC.
Play it on PS, and don't wait for a release date.
Read More: Zelda Breath of the Wild 2 Release Date, Trailer and News
Let's talk about "Bloodborne."
Bloodborne is an action role-playing game developed by 'FromSoftware.' For the Playstation 4, Sony Computer Entertainment publishes Bloodborne for the players. The game has a Hunter(player's character), and the player's inhabitants are afflicted by the disease called Bloodborne. In this game, the player's character attempts to find the plague source, and the character also unravels the city's mysteries. The character fights with Cosmic beings and beasts.
The game was released in Uk on March 27, 2015; JP on March 26, 2015; PAL on March 25, 2015; and NA on March 24, 2015.
Under the title of Project Beast, the game started developing in 2012. Finally, the game was published in 2015 and loved by a huge population. The architectural design of the game is similar to real-world countries such as the Czech Republic, Scotland, and Romania. After winning several awards, Bloodborne was stated as the 'Greatest Video game ever made.'
When is Bloodborne coming on PC?
The assumptions said that the Bloodborne PC port can publish in 2023. Many people are willing to bet on releasing Bloodborne for PS5 on PC. We also have some assumptions; since Nick Baker told us that the version of Bloodborne is completed, we can say it will release soon. In short, it's all our predictions that it could release in 2023. However, it has not been finalized Officially. So, either wait for the Bloodborne to come on PC or try the above solution.
Final Talk
We hope whether you are unfamiliar with Bloodborne, this article has clear all the points related to that. The Bloodborne PC port will release on its own time. All aside, the Bloodborne game is not that easy stuff. You fail, even if it pulls back to you at the first stage. But the best thing is, you learn how to tackle and become stronger. The quality of this game makes a person compete with themselves; that's why people love this. At last, We wish there wouldn't have any bad news in the future.
Also Read: When is Sims 5 Coming Out, Trailer & Features – The Latest Update