Instagram is the most popular app nowadays. The application allows users to create and share their photos, stories, and videos with friends and followers. It works the same way as Snapchat and allows you to post a story for 24-hour. After this, it will be automatically deleted.
Instagram has many settings that work on user privacy. Also, it includes privacy related to likes. Here is a guide on how to hide likes on Instagram in the Settings of the app.
To make the user's experience more pleasant. Instagram comes out with the feature to hide like and view no. of counts on all posts in their account. Therefore, users can focus on the matter rather than the popularity of the content. However, users can hide the like and view count on a post before posting any media. Also, after posting the picture or video.
How to Hide Likes on Instagram
Whenever you decide not to show several likes to anyone, you want to hide your Instagram likes so that anyone cannot see them. Sometimes, you do not want people to see your pics' popularity. Fortunately, Instagram provides a feature to turn off likes for your posts before or after you post them. You need not set these settings for every photo or video you post.
You can do it just for a single post or for all the posts you post on Instagram.
Method to Hiding Likes and Counts on Single Post
You can hide likes before and after posting the post retrospectively. You can do it in two ways:
Turn off post likes before posting it.
After posting the post, turn off likes.
How to Turn off Likes on an Instagram Post Before Posting
You can turn off likes before you post on Instagram with the help of the following steps:
Firstly, create your Instagram post generally as you always do.
When you get the final page before posting the post, scroll down to the bottom of the page.
After scrolling, click on Advanced Setting.
Next, you find an option Hide Like and View Counts.
Then, toggle on the sidebar of this option.
Now, click the back arrow.
Now, you get back to the final page of the post.
Lastly, hit the Share button to post your image or video.
Now, your post's likes will not be shown to the other followers.
How to Turn off Likes After Posting the Post
Moreover, it can be possible that users can turn off the likes after posting the post. Steps to be followed are as follows:
Firstly, go to the post you want to hide Instagram likes.
Next, click on three dots that appear in the upper-right corner, just above your post.
Then a drop-down menu appears. Hit Hide Like Count.
Finally, you can turn off the likes. Your like count usually shows. It will now be shown as Liked by [x] and others.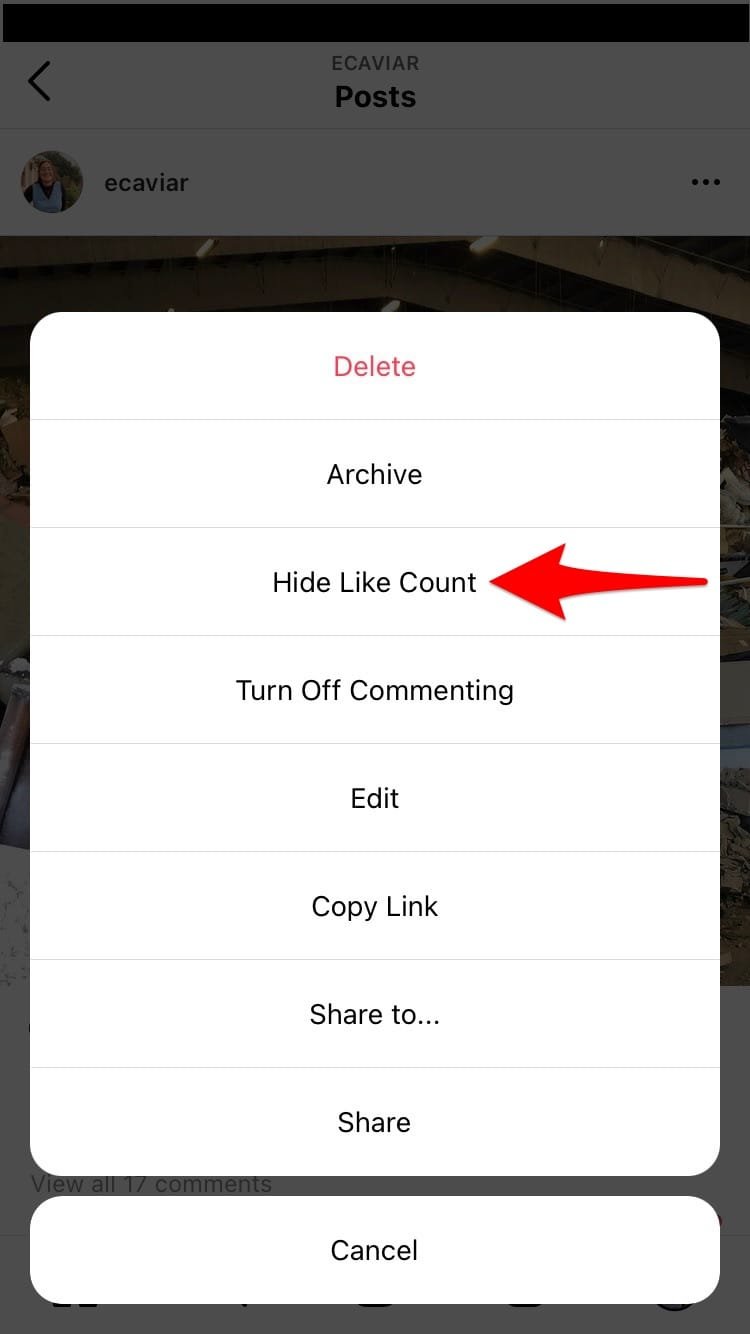 It is only for one post you do not want to show some likes. You can do this for all the posts you post. Whether or not it is your personal choice, you want to show several likes to Instagram users.
We tell all the users how you can number of likes and their counts on Instagram on all the posts.
How to Hide Likes on other Accounts
You can hide likes on Instagram posts. It is a straightforward task. It can quickly be done in the app on an Android phone.
To hide all like counts on posts, follow these steps:
Firstly, navigate your Instagram profile.
Now, tap on the three lines present in the right corner.
Next, hit on the Settings option from the pop-up menu.
Click on the Privacy option.
Now, tap on Posts.
Lastly, click on the slider of the option, "Hide Likes and View Counts," to turn it on. It will help you to hide Instagram likes.
Now, other users will not see who likes your post. Also, anyone will not be able to count the number of likes. Instagram is not able to show the count of likes underneath posts.
If you have some problems with the option to hide likes, you can check it by checking whether you are using the latest version of Instagram or not.
Conclusion
If you want to hide Instagram likes on your single post or all of the posts. You can use the guides mentioned above. Moreover, it is essential to remember that any change needs not be permanent. If you want to change your mind and show the number of likes, you can do it. Additionally, you can use music in your Instagram posts and stories to make them more attractive. All these features of Instagram help the users be more centered on their privacy.
Also Read: Why is Snapchat Not Working? – 9 Quick Ways Fix Guide