The Corsair One Pro i200 is a powerful, compact gaming PC that packs a lot of performance into a small form factor. It's designed for gamers who want a powerful machine that is easy to transport and fits neatly into any setup. Its Intel Core i9 processor and NVIDIA GeForce RTX graphics card provide plenty of power for gaming and creative work, while the small size and quiet operation make it great for office environments or living rooms. The Corsair One Pro i200 is the perfect balance of speed and portability, making it a great choice for any gamer or creative who needs a powerful machine that won't take up too much room.
Design & Build Quality
The Corsair One Pro i200 is a well-built machine. A silver rectangular box and a tasteful LED strip make it look stunning and sleek. It has 2 LEDs, one on the front and another one on the Corsair logo. The overall weight of the Corsair PC was just 23.4 pounds and works best if your aim is to create digital art.
The build quality is pretty amazing as it comes with an aluminum body, making it look sleek and smooth. The front of the box is pretty clean, with just a Corsair logo and a button that you can use to turn on and off the Corsair One Pro i200. It has an eye-catching design and solid build quality.
Corsair One Pro i200 Performance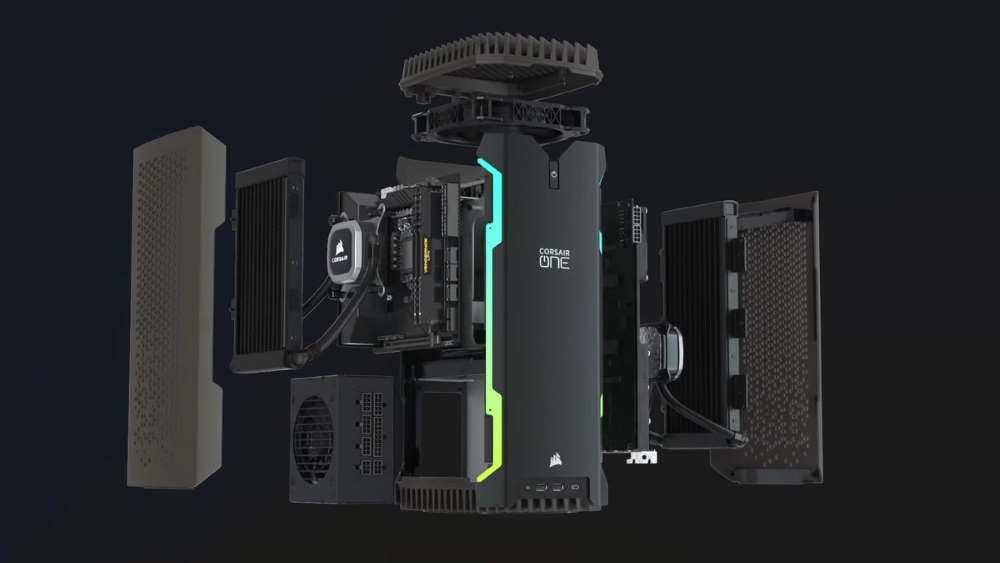 The performance of the Corsair One is pretty good when it comes to the value-for-money ratio. Most of the games run at 1080p and 60fps, such as Assassin's Creed Odyssey running on 1080p at 77 frames per second. GTA V runs at 126 fps on 1080p, and Shadow of the Tomb Raider runs at 117fps.
However, there is the same PC that achieves much better results such as Alienware Aurora R11 which runs at 152 fps on GTA V, and Shadow of the Tomb Raider with 136 fps. Still, the overall performance of the PC is good, with lighting you can experience something different.
Corsair One Pro i200 Features
The Corsair One Pro i200 offers something for everyone, no matter whether you are a professional or a gamer. Some of the awesome features are listed below
The mother of the Corsair PC is ASRock X299E
They offer 11 GB Nvidia GeForce RTX 2080 Ti
The powerful CPU has a 3.3GHz Intel Core i9-10980X
When we talk about memory, so they offer 64 GB DDR4 SDRAM 2667MHz
Last but not the least, it has a 2 TB SSD Drive
Corsair One Pro i200 Connectivity Ports
The Corsair One Pro i200 offers a total of 3 ports on the first: two USB A type ports, one 3.5 mm audio jack, and one HDMI 2.0 port. On the back, you can expect one USB-C port, one 3.5 mm audio jack, two Ethernet, and three Display Ports.
The sad part is you cannot find a USB-type C port on the front. It could be tricky for creative professionals who need to use USB ports for microphones, styli, and so forth. If you have curious to know what's inside this beast, then it would be very easy to open this machine. All you have to do just hit a button on the back and remove some screws, and you are inside the machines. The only trouble is that the components are so tight that you cannot change their parts, otherwise you will end up losing the warranty of the PC.
Corsair One Pro i200 Gaming PC Price
This Corsair One comes with two variants, one was the default configuration on such you can expect Intel Core i9-10940 CPU, Nvidia GeForce RTX 2080 Ti GPU, 64 GB RAM, 2 TB SSD, and of course Windows 10 Pro. The cost of the default configuration is $4500.
The other configuration comes with an Intel Core i9-9920X CPU and 2 TB HDD+1 TB SSD storage, which cost you around $4200.
Conclusion
It is a bit harder to say whether the machine is good or bad. However, some users may feel that the Corsair one was a bit expensive when we talk about its performance. Because they offer older GPUs and limited upgrade. On the other hand, some people feel that pay may not be an issue if you are using it for professional purposes. It also does not make any noise when you run any high-end game. Still, you can find many similar options in this price range, such as Alienware Aurora R11. If you want pure gaming, then you should add it to your shopping list.
Also Read: Google Pixel Slate i5 Review, Specs & Price