Acer Inc. specializes in advanced electronic technology by Taiwanese multinational hardware and electronics corporations. It was the 6th largest PC vendor by unit sales. Around 46 years ago, Acer was founded. Acer has its tablet, laptop PCs, desktop PCs, smartphone, devices, gaming PCs, and many more. Acer Swift 3 sf315-41, launched by Acer, is one of the best laptops ever.
If you are looking for the perfect computing device, choose the Acer Swift 3 sf315-41 (UN.GV7SI.001) (AMD Quad Core Ryzen 5/8GB/1TB/Windows 10) laptop. The Acer Swift 3 sf315-41 is small and lightweight, making it easy to carry anywhere.
Acer Swift 3 SF315-41 Review
Let's know what Acer offers in the specification of the Acer Swift 3sf315-41 keyboard. You can see the full-size profile keyboard with a 15-inch surface. It has the best feature with its backlit, and the arrow key arrangement is not made for the hardcore gamer, but it works best and is versatile.
Below the typing device is a large touchpad with integrated keys extending below the laptop's surface.
On the left side of this Ultrabook, there are two USB 3.1 ports, one ordinary sleep and one charge. Also, there is a USB Type-C port ( USB Type-C all the way!) and a full-sized HDMI port with a tiny hole where the charger would go. Moreover, there is no RJ45 port on this device, but it is an excellent product.
If we find a stylish one, it is extraordinary from the color theme, inside and out, generated from the small turbine-type ventilator but the lack of redundant holes from the port, and even hiding the vents for exhausting hot air. The Acer Swift 3 sf315-41 price is $899.
Acer Shift 3 sF315-41 specs
Display type- IPS
Dimension- 0.7×14.6×10 inches
Primary storage- 512GB M.2 SATA
Memory- 8GB DDR4
Graphics- AMD Vega 8
Processor- AMD Ryzen 5 2500U
Connectivity- HDMI, USB 2.0, 2x USB 3.0, USB C, Headphone
Weight- 4.85lb
Card reader- SD / SDXC
Body material- Aluminium
Wi-Fi- 802.11ac (2×2 MIMO)
Web camera- 720p HD webcam (+SHDR support)
Read More: Surface Pro 8: Review, Specs, And Price
Acer Shift 3 sf315-41 charger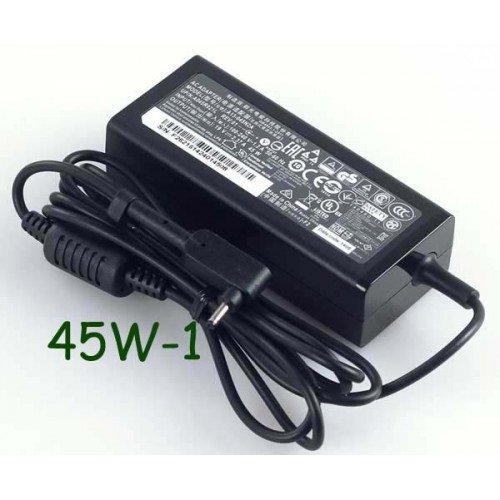 Acer shift 3 sf315-41 charger adapter is valued at 45W 19V 2.37A. It was made up of the highest quality material and first-class workmanship. The adapter of Acer Shift 3 sf315-41 is protected with short-circuit, overvoltage, and overcurrent protection. It has been tested using the sitting with – windows power setting mode, Wi-Fi turned on, and screen brightness adjusted to 120cd/m2.
Also, Acer Shift 3 sf315-41 charger is made by RoHS (Restriction on Hazardous Substances) Directive, which intends for the environment and to protect human health. It has been certified by FCC as well as CE. This adapter is used as a Fairchild board specifically designed with the highest quality part and examined to meet high safety. Also, these adapters are fortified with double IC.
Features of Acer Shift 3 sf315-41 notebook car charger are
1. It is compatible with a 3.0*1.1mm connector tip 2.37A device.
2. Over temperature protection, overload protection, and short circuit high-quality Acer swift 3 sf315-41 45W car charger.
3. FCC, RoHS, CE, and more certified for safety.
Acer Shift 3 SF315-41 battery
Acer shift sf315-41 battery is excellent in a rundown. It lasts up to 18 hours. Competition with others in terms of battery life, a big thanks to high base power draw, both the AMD Ryzen 2000 and 3000 series. The Acer Shift 3 sf315-41 battery ships with just a 48 Wh battery, which is much smaller than the average size of the device. As constantly, the display has set to 200 nits of brightness.
Acer Shift 3 SF315-41 Model Review
Acer Shift 3 sf315-41 is created with aluminum alloy metal. It has three surfaces in the whole unit, which is very helpful for heat excess as well as hardness. The slim body and light weight made it more impressive. It has a 15.6 inch large screen. The laptop extents 370.5×255×18.9mm, and the weight is 2.1 kg.
The screen is a Full HD IPS screen with 1920 pixels by 1080 pixels. The resolution suits the office work as well as home wives. The front camera and video on the screen don't seem to be in any hormones.
If you see the keyboard on the right part, numeric keyboard is available. This body of the keyboard is briefly designed. It has a one piece touchpad with a clear-cut design, and the keyboard has LED backlit without adjustment. Backlit is very useful in a dark environment. A fingerprint reader is also available; you can read it on the label given on a laptop.
Apart from them, the port on the right includes an SD, two USB ports, and a laptop keyhole.
Conclusion
If you want to make your attitude cool, then Acer Shift 3sf315-41 is best for you. Most people have preferred Acer Shift 3 sf315-41 because of its smart technology and specialized features. We have informed you of all the necessary things about this laptop. Hopefully, this comforted you to prefer this stylish Acer shift 3 sf315-41 laptop.
Also Read: Dell Alienware M15 R7 Laptop: Specs, Best Buy, Price, Review