Do you know that in the days before the internet, students would ask their friends if they would take these classes with a certain teacher? In addition, at that time, the students receive a form to rate their teachers. However, no one read the student reviews. The ratings and reviews were intended for the needs of educational institutions. If you are looking for a site to rate my professors, then don't skip the blog post. Have a look at some reliable Websites To Rate And Review Teachers And Professors.
7 Best Websites To Rate Teachers And Professors
Want to rate my professor? Which website should I use to rate my teachers? Uloop is a faculty rating site completely operated by college students across the country. This is where kids in almost every school in the United States rate their teachers to help others not get stuck with a bad teacher.
The Platform has a teacher evaluation section, as well as other resources such as jobs, housing, tutors, textbooks, and exam prep. Whether you need to rent a room, find a tutor to help you with your homework, or need help with your course load, look no further.
Koofers, similar to Uloop, is a general resource site for students that covers more than just teacher qualifications. Students can access test databases, practice tests, grade distribution data, flashcards, and a lesson planner.
The best part is that the site helps you find and apply for internships and Jobs, which is an important part of your career even before you graduate.
Koofers provides a unique overview of teacher performance and the classes that they offer. Displays a former student's overall grade and GPA in a specific subject. This helps potential students choose the best teacher and class.
Rate My Teacher is one of the most popular websites for rating my elementary school teacher. The site provides reviews primarily for primary and secondary school teachers in the United States, Canada, the United Kingdom, Australia, New Zealand, and Ireland.
Once you visit the site, you can search for your teacher or school to see a full list of teachers. Once you have selected the teacher, you can comment on him/her or rate this teacher. Ratings are a simple point system from 1-5.
Categories include the traits of Ease, Utility, Clarity, and Knowledge.
Another great resource for viewing teacher qualifications is Schools View, an online platform aimed at students in the US, UK, New Zealand, and Canada. Users can rate and review their schools, teachers, principals, and school districts, and their level of parental involvement.
After registering for an account, select Choose a category that interests you, and then see other students' grades. There is also a separate section that offers free lesson plans, e-books, worksheets, and other free online educational resources.
Campushopper is one of the most popular online platforms for students. Students believe Campushopper is the best website to rate their teachers, professors, and lecturers.
In addition, students can network with other students by posting on the College chatter entertain chalkboard. Students can upload photos and listen to their campushopper radio.
One of the best things about this campushopper website is that students can play free online games.
The Campushopper website includes nearly six thousand universities around the world. Students assign a grading system to that particular teacher. In addition, they can write reviews and comments about the teacher's teaching style, respect for students, etc.
One of the best features of this Campushopper website is important for all teachers and schools. So this website makes a great impression.
Rate Your Prof is the best teacher rating website. It has been running for more than two decades. Rate Your Prof is a website that provides students with first-hand information about schools and teachers in the United States.
Students can begin their search by typing the name of the teacher, school, or location. You can also rate teachers from one to five stars based on the teacher's name. Students can also check how other students have rated teachers.
The ratings for each teacher are shown along with the overall experience. A combination of the characteristics of this particular teacher emerges. Therefore, every time you click on the teacher's name, you can understand the quality of the teacher. The results help students make the right choices for their careers.
Niche is considered to be one of the best teacher review websites. It's very different from all teacher rating websites. It also contains the list of the best professors, lecturers, and professors of all schools, colleges, and universities.
On this niche website, you can see a collective ranking and rating of how a school performs across all departments. The school's faculty means you won't see rankings and reviews of individual teachers.
The Niche website is one of the best platforms to research US colleges, especially in Ohio, Florida, Michigan, New York, and other states, schools, and universities. Millions of students use this website every month as it is easily accessible.
In addition, parents even receive comprehensive reports, rankings, and evaluations from their students' teachers. This website does a rigorous analysis of large sets and combines everything with reviews and comments.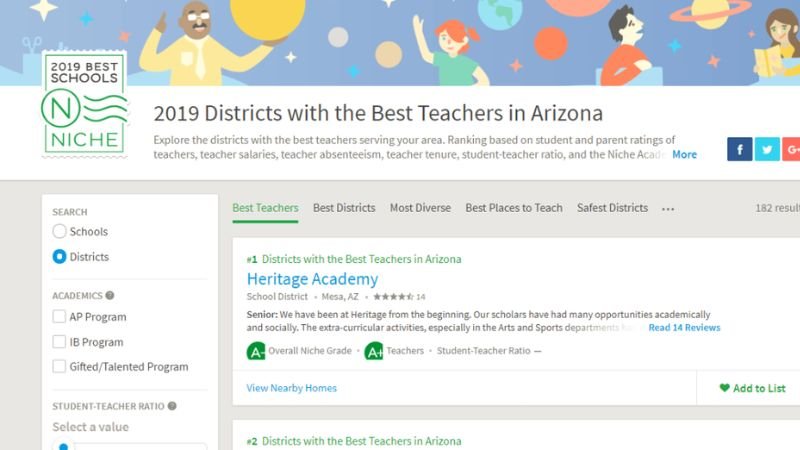 Conclusion
In this article, you can see the list of the best teacher review websites. It helps you to make choices about your views and classifications. We know that the best courses are the hardest
decisions.
According to statistics, the above websites are the best websites for teacher evaluation. Also, you can understand the features of teacher review websites. Some websites offer the best features like games, radio, study materials, and much more.
Also Read: Why You Must Prefer The PMP Course?