If your workflow requires several panels and windows, as it undoubtedly does, ultrawide displays may enhance your productivity. Even if you do most of your work in one program, you may need to answer emails or instant messages from clients or colleagues, make video calls, or check how things look in another. Here are the suggestion for the best 7 ultrawide monitors that are available in the market to buy now.
Toggling between many panels and windows can be frustrating when working quickly, and closing the wrong one is easy. Using many monitors is one approach, but there's a cleaner one. Some ultrawide monitors can give you the same screen space while taking up less desk space and reducing cables. It's simpler to move windows and panels around one huge screen than two or three smaller ones.
Top 7 Ultrawide Monitors in 2022
Gigabyte M34WQ is our favorite ultrawide display. It has fantastic gaming and office functions. Wide viewing angles make it simple to share your screen, and its stand allows swivel, height, and tilt adjustments. Peak brightness and reflection treatment provide visibility in bright spaces.
It has a keyboard video and mouse switch (KVM). You may display and operate both sources with a single monitor, keyboard, and mouse if you work from home and have a work and personal computer on the same workstation. It has a built-in USB hub so that you can leave your mouse and keyboard connected, and it supports USB-C, which is great for recent MacBooks.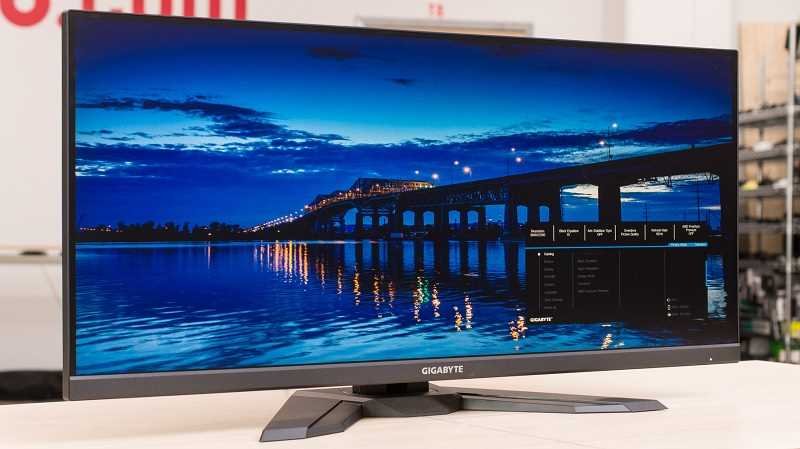 Poor dark-room performance. Its poor contrast ratio makes blacks seem grey, and it doesn't become brilliant in HDR. If your task demands exact colors, the hues are over saturated. It's an excellent monitor despite its flaws.
The LG UltraGear 38GN950 has a QHD+ (3840 x 1600) Nano IPS display with rich colors. Its rapid reaction time, 144Hz refresh rate, and G-Sync compatibility make it a superb ultrawide monitor for gaming. 3840 x 1600 isn't quite 4K (3840 x 2160), but it's close and allows greater gaming performance with lower-end hardware.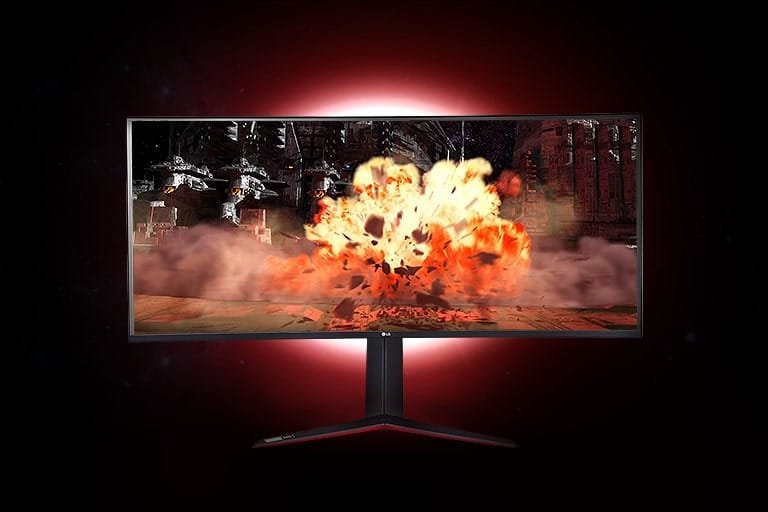 Is it a non-gaming monitor? Absolutely. While the speed for high-paced gaming is its key selling point, we feel its 21:9 aspect ratio and 98 percent DCI-P3 compatibility make it a terrific pick for productivity, too, if you have the money to invest. Suppose you don't game at all, though.
In that case, you won't need a lot of the capabilities, in which case it's an unnecessary expenditure, and you could be better looking at the BenQ monitor above or the fantastic MSI screen below if you require greater resolution.
The Dell S3422DWG is the greatest ultrawide HDR gaming monitor we've tested. It gives a superb gaming experience, with a decent reaction time at the top refresh rate, reduced input latency, and a rapid refresh rate.
Its ultrawide, 21:9 aspect ratio and slightly curved screen give a wonderfully immersive gaming experience. It also supports FreeSync variable refresh rate technology, which helps prevent screen tearing. It's one of the finest displays on the market for HDR. It features a high natural contrast ratio and great black uniformity, and it can show a broad color gamut, so HDR material appears bright and realistic.
It's bright enough HDR for tiny highlights to shine out while gaming, but it lacks a local dimming capability to make small highlights stand out even more.
Unfortunately, the picture fades when seen at an angle, so it's not the ideal option for co-op gaming on the same screen.
Although it natively supports FreeSync, it also works with NVIDIA graphics card and the G-SYNC Compatible mode. Sadly, there's some irritating flicker with G-SYNC when the framerate dips below 60fps. Overall, it's a decent display for most applications, and it's the greatest widescreen monitor for gaming that we've tested.
There's ultrawide, and then there are monitors like the Samsung CRG9 with enormous 49 panels. A typical monitor has an aspect ratio of 16:9, while most of the displays in our list of the finest ultrawide are 21:9. But this trio of stunning screens are all 32:9, effectively giving you the space of two 16:9 monitors side by side, but with less of a footprint on your desk.
The Samsung CRG9's massive screen can offer a great boost to productivity if your desk can hold it. We've rated this higher than the Philips below mainly for value as it's significantly cheaper while still having great specs for creatives and gamers. Like our other choices of monitors of this size, it offers multiple inputs and a picture-in-picture mode, so you can connect two devices and use them together.
We find it offers superb image quality, with 108 pixels per inch, providing lots of screen space and vivid details without scaling. At the same time, the backlight's quantum dot enhanced film layer enhances the color gamut to 95 percent DCI-P3 (equal to 125 percent sRGB) for more vibrant, lifelike colours. The refresh rate and response time are also reasonably fast for gaming.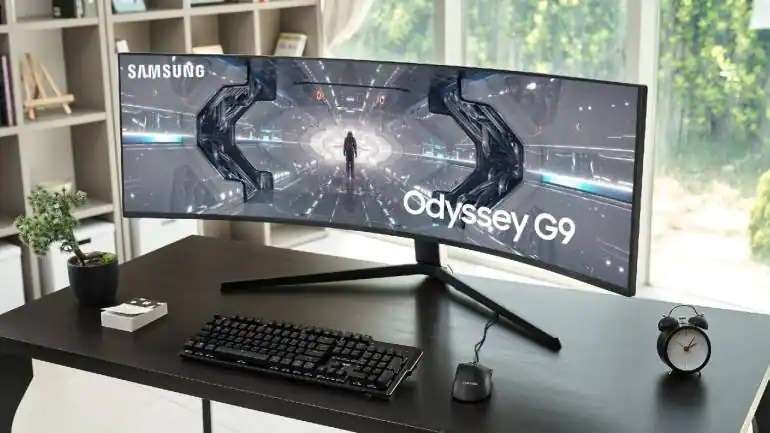 This large curved ultrawide monitor looks fantastic in a sci-fi style design that will make you convinced you're the star commander. Curved monitors give you a greater peripheral field of vision, which is great for gaming, but can also help you focus and increase productivity.
The negatives of a curved display include an increase in glare and the fact that certain games and pictures may distort at the corners. This may be especially difficult while gaming, and you might have to do a little study to discover games that would show appropriately at 32:9. You can always join a forum to learn how to patch popular games to work on your ultrawide curved monitor.
Some people claim that curved displays aren't as ergonomic as flat panels, since you have to swivel your neck more to view the complete screen. It offers adjustable lighting through its Infinity Core lighting feature, plus a stand that allows you to modify the height but not the tilt because of its width.
Dell's 34-inch Alienware ultrawide monitor is an excellent gaming monitor, as it has everything a gamer might want to handle. It packs a 3440 x 1440 resolution complemented by a curved IPS panel (1900R), producing rich colors and wide viewing angles. Completing this panel is a 350-nit brightness maximum and a 1,000:1 contrast ratio. It makes your images look great.
The AW3420DW includes six physical menu buttons for toggling preset modes, automatic overclocking, dark stabilization, and controlling brightness and contrast. Tucked away below the display's bottom edge, you'll find a line-out jack, a headphone jack, five USB ports, DisplayPort 1.2 input, and HDMI 1.4 input.
In keeping with Alienware tradition, adjustable LED strips line the angular spines on the backside and stand. Gamers will also see the popular alien head logo shining on the back. The screen's black bezels are minimal, while the back sports gunmetal titanium finish. Finally, the Alienware AW3420DW features Nvidia's G-Sync technology for smooth, tear-free frame rates.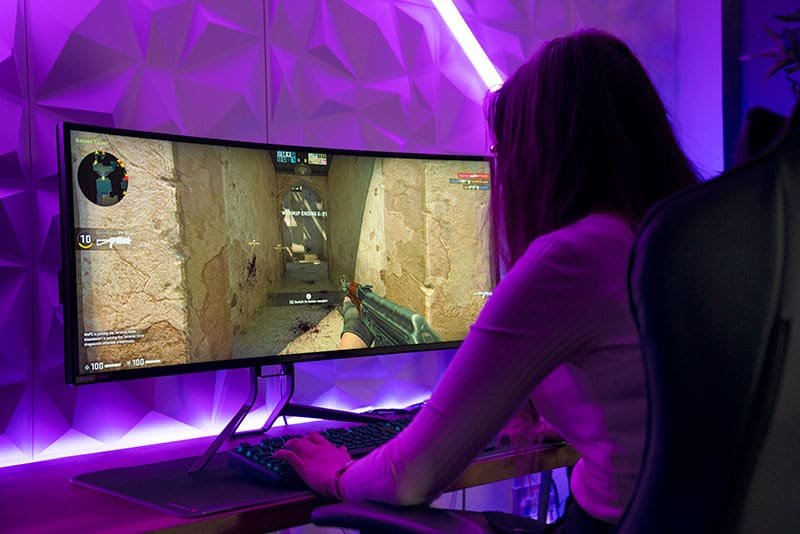 Many great widescreen displays support G-Sync technology. However, if you're looking for the best ultrawide curved monitor that ticks gaming boxes, there's nothing quite like the Acer Predator X38. It has a resolution of 3840 x 1600, an extra-large screen that's great for genres that can maximize immersion, and an impressive refresh rate that can reach 175Hz.
Acer's display enjoys fantastic collaborative work and plays viewing angles, thanks to its IPS panel. Response time is 1ms standard, up to 0.3ms with the right connections, and reaching 98 percent of the DCI-P3 color gamut is a plus for luscious gaming environments, too.
Ports include various options like DisplayPort 1.4, HDMI 2.0, USB-C, and USB-A 3.0. It also supports Display HDR 400 for valuable optimization with compatible content.
Also Read: The Best 10 Core i7 Windows Laptops 2022