his tutorial will briefly explain to you to make a night vision potion in Minecraft. By turning on the night vision potion in Minecraft, you can elect to see clearly in the nighttime. Moreover, with the night vision potion, you can see underwater. This vision fills everything to a light phase of 15, with blue shine appearing from water and illuminating lava with an orange glint.
How to make night vision potion (3.00)
First, open the brewing stand UI, and place your one water bottle in the bottom of the three boxes. Furthermore, place a nether wart in the top box and wait for the arrow to fill up fully. Just after, place your golden carrot at the first box in the UI of the brewing stand. After a few seconds, the awkward potion will change into a night vision potion (3.00).
These steps guide you to make a night vision potion
Step 1
Firstly, find a carrot. A village is an assurance place where you can find carrots. Relate the carrot from others yields by green leafy top and orange base.
Step 2
You should find a gold Ingot to produce a golden carrot. We need an iron pickaxe to dig gold. Gold ore can get below "Y" level 31 or in the bad land biomes near the surface. We can recognize gold ore with its yellow color. Smelt it and place it in your furnace.
Step 3
Go to the crafting menu and place an ingot to make gold nuggets.
Step 4
Place the carrot between the cube to make a golden carrot. Now it will require a brewing stand to make one with the drops from blaze enemies and cobblestone.
Step 5
Next, go to the nether to find the Blaze. Then make a nether portal by ordering five blocks horizontally and obsidian four blocks vertically.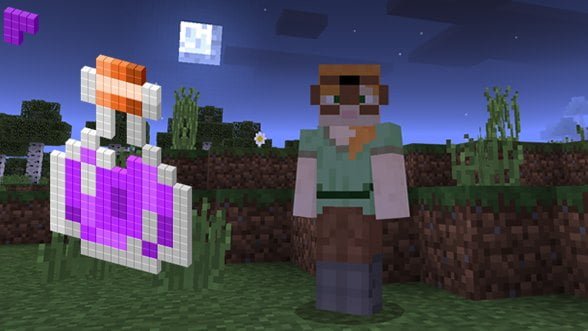 Step 6
light up the nether portal with some flints. Place the flint and iron ingot into your crafting menu to make flint and start traversing the nether. Here your nether lightened up.
Step 7
Next, you will have to find neither Fortress. Locate some red or purple hue on the bricks, and now search for the Blaze that spawns intermittently throughout the Fortress. Recent the Blaze until you have a decent amount of blaze rods.
Read More: Minecraft: Where To Find Copper And How To Use It?
Step 8
Then immediately ran out of the Fortress by escaping from the soul of sand and red fungus.
After taking all the items, go back to the crafting table. Assemble the three pieces of cobblestones with a blaze rod to obtain a brewing stand.
Step 9
To work, the brewing stand needs blaze powder. Place the blaze rods into the crafting menu to make blaze powder. Then place your blaze powder at the top left slot to fuel your brewing stand.
Step 10
Now, you will need a glass bottle. To make glass, take some sand from the furnace. Go to the crafting menu and arrange the three pieces of glass in a "v" shape to make a glass bottle.
Step 11
After that, fill your water bottle with water by right-clicking it and placing them at the bottom. Point your nether wart in the final slot. Wait for a moment to load your bottle.
Step 12
Leave the awkward potion and grab your golden carrot. After filling your bottle, you will have three potions of night vision.
Hence, you can follow these steps in your night vision potion (3.00).
How to make a night vision potion (8.00)
The night vision potion (8.00) helps you to see in the dark for 8 minutes. A portion of night vision(8.00) is available on these platforms.
1. Java edition (1.4.2)
2. Education edition
3. Wii U
4. Xbox one
5. Xbox 360 (TU14)
6. Nintendo switch
7. PS3 (1.04)
8. PS4
9. Pocket edition (0.12.1)
10. Window 10 edition
Here are the steps to craft this potion
Step 1- first, open your crafting menu and add blaze powder to activate the brewing stand.
Step 2- You will need one Redstone dust and a night vision potion (3.00).
In the brewing stand menu, place the Redstone dust on the top and the potion on the bottom of the three boxes.
When you complete the brewing method, the "glue glug glue" sound will come then the Redstone will fade away. Here your potion on night vision (8.00) is finished.
Closure
Applying this night's vision potion makes your gameplay simple and extremely useful for exploring the ends and a deep ocean. That's a bonus point, plus the effect helps save from the dangers. Further, this potion also encourages you to find fortresses from a distance, hunt underwater temples, shipwrecks, and spot the ore. Hopefully, these steps answered how to make a night vision position.
Also Read: Minecraft: How to Grow Pumpkins and Melons in Minecraft