A jailbreak for your Firestick is simple, safe, and allows users to access various third-party apps that are compatible with your Firestick. Read our guide on how you can jailbreak amazon Firestick devices to know more about the amazing available apps and how you can download them.
What Is A Firestick Jailbreak?
Amazon FireStick is a great streaming device. The reason it's risen to fame is due to its easy, affordable, feature-rich, and price-effective design. It allows you to turn any TV with an HDMI port into a smart television. You can stream video directly from various streaming entertainment websites like Prime Video, Netflix, Hulu, and other similar TV channels.
All entertainment and fun until you discover a critical limitation of the streaming device. To utilize all the applications and streaming media offered by these services, you have to pay a fee for a subscription. The subscriptions are costly. It will cost you an enormous portion of your budget if you need everything from Live TV to movies, TV shows, and many more.
Is It Safe To Jailbreak A FireStick?
Jailbreaking, unlocking, or hacking FireStick is not prohibited in any way. It's legal because when you purchase the FireStick device, it becomes your right to use it. So long as you're not interfering with others' enjoyment of violating national laws.
Additionally, the fact that Amazon has included this feature in the settings confirms it is legal to jailbreak on a FireStick. It is possible to install Kodi on a FireStick without legal concerns. Installing Kodi and its add-ons to your device can open endless free media content.
Although jailbreaking isn't a crime, how you use it is. For instance, if you're watching content that is copyright protected on Kodi or other streaming services, you could get in legal trouble through your government or your nearby Internet Service Provider (ISP). They may shut down your account, place it under financial penalties, or take you to court.
Why Do You Jailbreak A FireStick?
As previously mentioned, Jailbreak amazon FireStick gives users access to many third-party applications. These apps allow you to stream or download TV films, shows, Live TV Sports, and Kids' Entertainment Politics without paying a cent. Other than that the premium streaming services like Hulu and Netflix will cost you a significant amount of money in subscription fees.
The jailbreaking's unlimited capabilities can be misused. Users can stream illegal content without having to check. This is why Amazon has childproofed and secured the FireStick from being hampered by piracy. This ensures that nobody downloads or installs free applications like Kodi in error. You're solely responsible for your actions if you jailbreak your FireStick to access pirated and illegal software.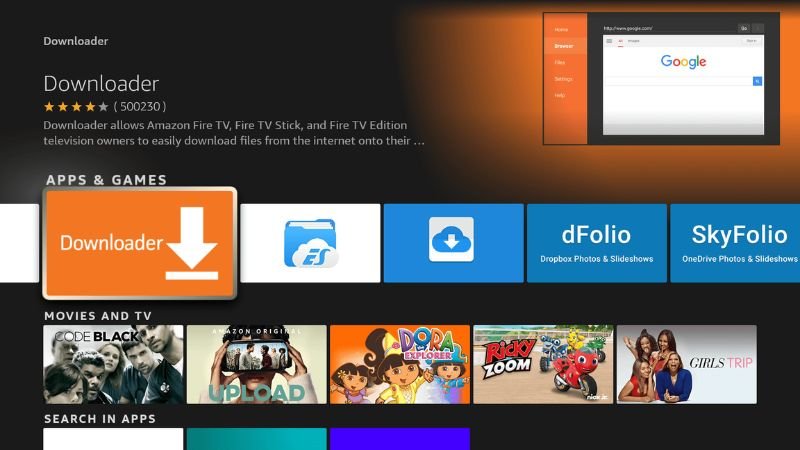 Methods For Jailbreak Amazon Firestick
Step 1: Install APK Downloader On FireStick
Jailbreaking is installing third-party APKs to FireStick devices for free streaming. Unfortunately, it's not available on the Amazon App Store does not offer these apps.
To download third-party streaming applications for streaming, you require a facilitating application. This is because Amazon Fire TV Stick does not allow direct downloads from the browser. The application that we install all of our jailbreak applications is called Downloader.
Here's the procedure we'll follow in this section-install the Downloader application from Amazon App Store. Let's move on right now.
You can go directly to your home screen on your Amazon Fire TV Stick.
Click Search in the middle bar, then click Search.
In the search window, you can type in the app's name and click Downloader. Select Downloader from the search results.
Select Download (or Download) in the next window.
The Downloader app will take a while to download and install. After that, click Open to open the Downloader application.
Pay attention to any prompts when you launch the Downloader application for the first time. However, if it requests you to grant it any permissions, make sure you allow the app to enable every one of them.
Step 2: Setting Up FireStick For Jailbreaking
The first step is to modify the Fire TV Stick/Cube setting to allow your jailbreak procedure to function. This is the only setting you'll need to adjust to begin.
Switch up your Amazon Fire TV Stick and wait for the home screen to appear.
Choose the gear or cog icon in the center bar (on the left) to start Settings.
Select the menu My Fire TV.
In the next screen, select Developer Options.
Then, turn ON ADB Debugging.
You can click Next and select Install unknown apps. This allows you to download apps outside from Amazon App Store.
Click Downloader, then turn it on.
Click the back button of the Amazon Fire TV remote. This will bring you back to the Settings window—open Preferences.
Open Privacy Settings.
Select these options to block sharing your usage information after you jailbreak your Fire Stick in the Privacy Settings:-
– Device Usage Data
– Collect App Usage Data
Click the back button one time. Now you should be in the window for preferences. Click Data Usage Monitoring.
Now you need to turn off the Data Usage Monitoring setting from the next screen.
Step 3: Jailbreak Firestick
The first jailbreak application we're going to install is Kodi. If you need to be made aware, Kodi is a media application that lets you gain access to a vast array of entertainment that is free. You can stream your most loved television shows, movies, and channels on TV, sports, kid's content, and more. You can stream whatever you like. All you require is the correct Kodi Addons and Builds.
We'll unlock the jailbreak Fire Stick with Kodi using the Downloader app that you purchased from Amazon's App Store.
Open Downloader. Click on the URL text box.
When this window is displayed, enter firesticktricks.com/kapk and click Go.
You will need to wait for the Downloader app to install your Kodi 19 Matrix APK.
Now, we must install Kodi. Choose Install and then click.
You must wait to see if Kodi APK is installed. Kodi APK to be installed.
The Application Installed notification will indicate that Kodi is downloaded and installed on the Amazon Fire TV Stick.
Also Read: How To Fix It When Your Roku Remote Is Not Working