Samsung is surprising everyone with its new launches. Now is the time for the Samsung galaxy s22 ultra, the best Samsung phone you can buy. This phone is the toughest phone ever since you will want the extra protection with the Samsung galaxy s22 ultra case. Galaxy S22 ultra case LifeProof must be required. Unfortunately, there are plenty of good options, which you may like for your phone.
Here we discuss some cases for Samsung Galaxy S22 Ultra, which protect your phone anyway:
For your new Samsung Galaxy S22, the OtterBox case is the strongest case you can buy for it. The multi-layer drop protection, camera edges, reinforced corners, raised screen, and port covers will protect your phone from the worst drops. Especially, it looks amazing with the blue and purple finish. Definitely, you will love the purple one if you have a galaxy S22.
Product dimension: 7.1 x 3.87 x 1.37 inches
Special features: Antimicrobial, Rugged
Colors available: Black, Blue, Purple
Price: $59.94
The best case is if you want to add all-around protection to your Galaxy S22 phone. TORRO has a sturdy TPU frame for extra protection, for stuff, it has three card slots putting area, a magnetic clasp, and also a large compartment for cash receipts. Moreover, it folds into a kickstand if you want to watch movies or a video call.
Product dimension: 6.61 x 3.39 x 0.71 inches
Special features: Genuine leather, slim profile, stand function, wireless charging, card slots
Color available: Black with red stitching
Price: $37.99
This case is the ideal option if you're seeking a sturdy case that's inexpensive. The Revolution series case is reasonably priced and provides good protection. Happily, Poetic's thick rubberized edges and reinforced corners offer shock-proof, drop-proof, and impact-resistant protection. The kickstand on this S22 case is superior to that on other high-end robust cases, making it the finest one with a screen protector.
Product dimension: 7.4 x 3.86 x 1.42 inches
Special features: Shock-absorption, wireless charging, heavy-duty protection, screen protection
Colors available: Navy blue, Light pink, Brown, Marron red, Black
Price: $24.95
Those who are looking for a camera protector case for S22 ultra, then this is excellent for you. The raised edges around the camera, add a protective slide to fully cover the lens, accidental drop and shielding them from dust. The Spigen s22 ultra case gives shock-absorbing TPU for decent protection, and extra grip, and the corner features air cushion technology making it kid-friendly.
Product dimenson: 5.93 x 0.43 x 2.97 inches
Special features: shock-absorbent
Color available: Black
Price: $20.99
There are many cases that provide waterproof features, but this case offers some new features. It is waterproof up to 6.6 feet underwater for an hour which is a very good thing, you can take it while swimming and out in the rain.
In comparison to other cases, it has a built-in screen, which fully works with a fingerprint sensor. It also covers the pen slot and charging port from dust.
Product dimension: 7.8 x 3.9 x 0.75 inches
Special features: shock-absorbent, waterproof
Colors available: Blue, Box black, Black, Light Yellow, Purple, Clear, Green, White, Teal, Pink
Price:$ 18.39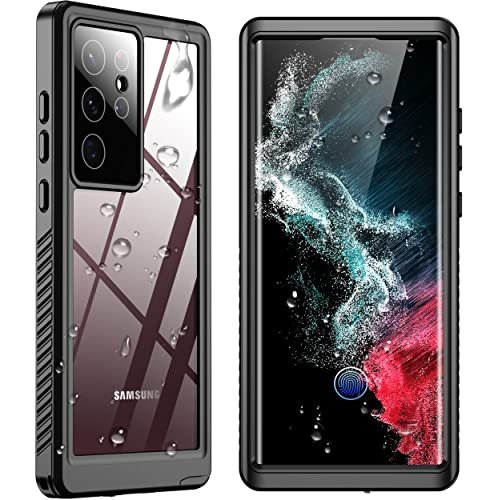 We recommend the GALAPPLE Magnetic clear case if you want to use MagSafe accessories with your S22 ultra phone. The MagSafe allows you to attach accessories like a MagSafe wallet, MagSafe car mount, or MagSafe ring. The 1mm lip around the camera and screen lens, prevents scratches while laying flat on the surface.
Product dimension: 7.56 x 4.37 x 0.55 inches
Special features: Magnetic, shock-absorption, slim fit
Price: $15.04
The Samsung Galaxy S22 ultra-led view covers, it is gorgeous dynamic AMOLED 2X display make it perfect for watching movies. The kickstand is required to support the weight of the Galaxy S22, the sturdy metal kickstand supports the phone in landscape and portrait orientation without any wobbling. Moreover, after 3,000 uses, the ESR claims hinge remains strong.
Product dimension: 6.59 x 3.23 x 0.62 inches
Special features: metal kickstand
Colour available: Clear
Price: $19.99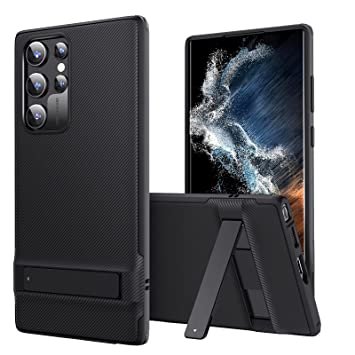 This galaxy S22 Ultra case is a bit pricey, but the best phone undercuts the competition comes at this price. The temdan offers IP68 water protection and 2-meter drop protection. You have choices of many colors in the temdan galaxy S22 case.
Product dimension: 3.54 x 0.63 x 6.69 inches
Special features: Support S-pen, Wireless, Support Fingerprint ID, IP68 Waterproof
Colors available: Pink, Purple, Teal, Red, Rose red, Blue, Black, Matte Black, White, Green
Price: $23.99
Cover For The Samsung Galaxy S22 Ultra Case LED
Why not make the Samsung galaxy S22 ultra even more valuable given that it already has a premium appearance thanks to its unique features? The Samsung Galaxy S22 ultra-LED view cover excels in both its fashionable appearance and increased functionality. Customized notifications can be created by adjusting the LED lights. You can use digital code to alter the outside of the LED view cover, even while it is closed. There is a pocket for credit and transportation cards within the case.
Product dimension: 6.57 x 3.27 x 0.59 inches
Special features: Shock-absorbent
Colors available: Black, Light Grey
Price: $56.03
As the galaxy S22 runs smooth, why not get a silky smooth case to match it? The perimeter of the presidio 2 is lined with air capsules for even more protection as they compress and decompress upon impact after a drop. In real-world testing, speck says its case can withstand drops up to 13 feet.
Product dimension: 6.43 x 3.07 x 0.35 inches
Special features: 13-feet drop protection, microban, Raised bezel
Colors available: Storm Blue, Coastal Blue, Black, White, Graphite Grey, Bold red
Price: $33.37
Conclusion
Samsung Galaxy S22 Ultra cases must include rugged, full covers, leather, silicon, strap cases, and even some with a built-in kickstand. Even more, the new galaxy S22 Ultra has a garage S-Pen, so you will need a cutout for that as well. We hope that the items we recommended and discussed may helpful for you.
Also Read: Top 10 Best Cases For iPhone 13 Pro Max To Buy Now